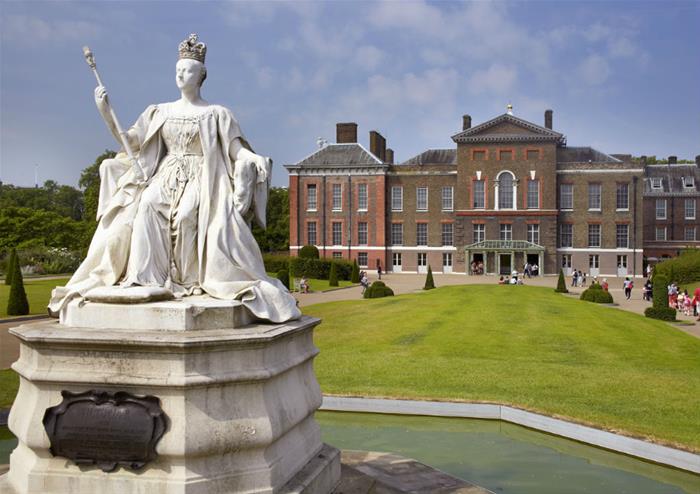 Following its recent £12m refurbishment, Kensington Palace is home to many secret stories from its numerous famous Royal residents over the centuries.
Those visiting Kensington Palace walk into the beautifully crafted landscape gardens and palatial entrance to make their way towards the wonderful King's & Queen's state apartments, as the courtiers would have done over the ages. Two Royal courts have called the Palace home over the centuries, both of which have many interesting tales to tell.
Diana – Her Fashion Story
This wonderful exhibit traces the evolution of the Queen of Hearts herself, the late Lady Diana, Princess of Wales. From the shy and reserved outfits worn during her first appearances in the public eye, to the glitz, glamour and outgoing confidence she enjoyed later in her life. Everything the Princess wore was scrutinised and this attraction celebrates her journey to her unique position in society – learning along the way, how to engage with and inspire people through her personality and by fighting causes close to her heart.
As you walk round, you will discover the famous and beautifully ornate outfits worn by the Diana during her public life. The magnificent collection of garments, brings together outfits ranging from stunning evening gowns from the 80s to the suits created by notable designer Catherine Walker and worn at her many public engagements during the 90s.
The Princess had a long involvement with many fashion designers at the time and this relationship is there for all to see via the many original sketches and outfits on display. Most notable parts of the exhibition include the iconic ink blue velvet gown from Victor Edelstein, worn during Diana's dance with Travolta at the White House and the famous pink Emanuel blouse worn during Lord Snowdon's portrait painting of Diana in the early 80s. 
Another wonderful creation to be stared at in awe, is the blue tartan suit by Emanuel, made famous during the Princess's official visit to Venice, which has only just been revealed to the public. This piece is particularly rare and was only recently uncovered and reacquired at auction by Kensington Palace charity – Historic Royal Palaces.
---
(Prices from £9.45)



(The best ticket deals – save up to 60% – No hidden charges)
---
---
---