Les Miserables at the Queen's Theatre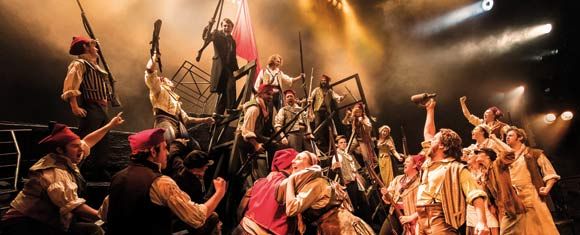 The global sensation that is Cameron Mackintosh's amazing production of Les Miserables continues its now 30 year run in the West End. Awarded the BBC Radio 2 Audience Olivier Award in 2014, this retelling of Victor Hugo's classic tale continues to wow stage audiences the world over.
This triumphant musical has now had long runs in 42 countries and has been translated into 22 different languages. Despite starting its run back in 1985, it still manages to break box-office records wherever it shows its face!
Set in 19th Century Paris, Les Miserables (or Les Mis' for short) relays a captivating story of unrequited love, broken dreams, redemption and sacrifice. The show is a testament to the indomitable human spirit.
Tenacious police officer, Javert pursues ex-jailbird Jean Valjean for decades after he breaks the terms set down in his parole. Valjean's life takes an unexpected turn when he agrees to look after Cosette, the young daughter of a factory worker named Fantine and from that point, both of their lives are forever changed.
Featuring classic and wonderfully produced songs such as 'I Dreamed A Dream', 'One Day More, 'On My Own' and 'Bring Him Home', Les Miserables is the mother of all musicals!
---
(Prices from £33.00)



(Save up to 60% – No hidden charges)
---
---
---