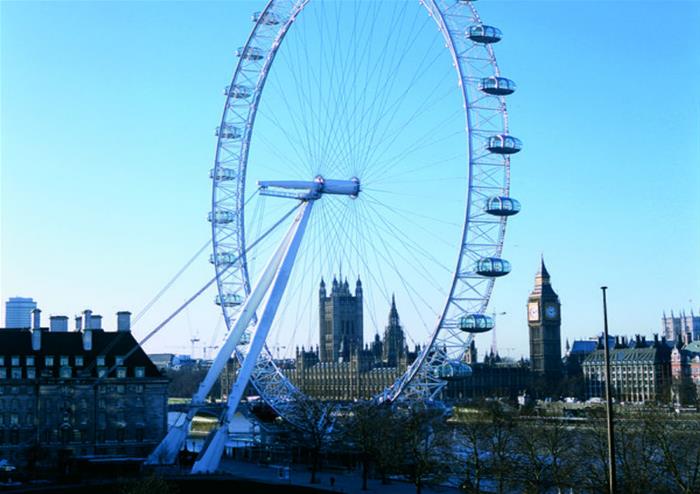 Head down towards The Houses of Parliament and you'll soon see the Coca Cola London Eye, which can be seen in action each day just across the river in the Lambeth area of the capital.
Soaring some 135 metres into the sky, this striking London attraction represents the world's largest observation wheel. Operating using an interesting cantilever design, this 'must visit' attraction offers jaw-dropping 360 degree views of the London skyline and it's many notable landmarks.
This is no 'white knuckle ride', as it has been created for pure sightseeing and its rotation is so gradual, that it takes each of the 32 glass observation pods roughly half an hour to rise and return to the ground. This means that you're not stuck looking at the same view for the entire time and if the ever-changing scenery isn't enough to grab your attention, there are 6 Samsung Galaxy tablet displays that offer information on London's various landmarks in a choice of several different languages.  
If you are willing to pay what is quite an expensive entrance fee (Currently £21 for children and £26 for adults) and wait up to 30 minutes to get onto the ride, then you will be witness to spectacular views of London's busy throng from a unique perspective. The only way to see if this represents value for money, is to go and check it out for yourself!
The London Eye is now a permanent and awe-inspiring sight, right in the heart of modern-day London.
---
(Cheap London Eye Tickets – Prices from £22)



(The best ticket deals – save up to 60% – No hidden charges)
---
---
---