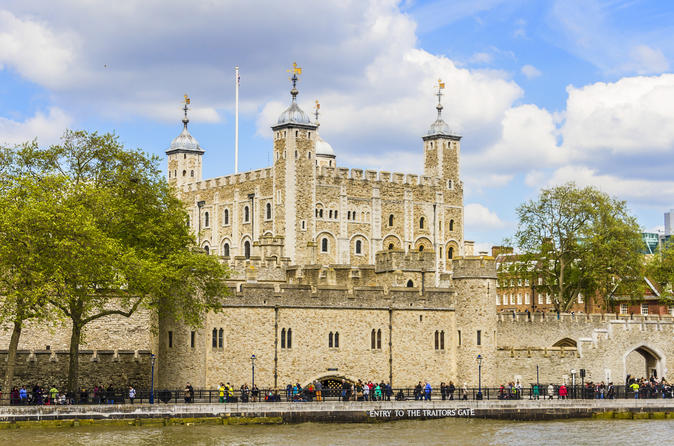 When William the Conqueror began building the original stone tower that now forms this iconic bridge, little did he know what it would eventually become. From a single tower, it was added to over time by monarch after monarch to become a huge and imposing feat of engineering that has acted as a palace, a fortress and even as a prison.
Visitors to the White Tower will meet the Yeoman, who are more famously known as Beefeaters. If you're lucky enough, you may get to see one of the 6 ravens that are kept at the Tower to prevent the bridge and consequently the Kingdom from falling down, as the tale dictates. A macabre history is behind Tower Green, as it was the location of many an execution. Two of the wives of Henry VIII met the end in this way, as did some of the most famous names in British history.
The superlatively grand Crown Jewels call the Tower of London their home, which are listed as 'priceless' and iconic symbols of the Monarchy of Britain. The dazzling sight of the Crown Jewels is created by shining light into the 23,578 jewels and gems that have gone into creating it. The most notable of these is the Imperial State Crown, which on its own boasts over 3 thousand jewels including diamonds, pearls, sapphires, emeralds and rubies. 
During their 300+ year history, the Crown Jewels have been an integral part of what makes the British Royal Monarchy so special and have only seen one confirmed attempt to steal them back in 1671. This attempt came from Irish adventurer, Thomas Blood. He failed, but went on to be awarded the restoration of his estates in Ireland and an annual pension by Charles II, who was impressed by Blood's sheer audacity. 
Access for Disabled Visitors
The Tower of London does welcome all visitors through its doors, but due to the historic nature of the building, some of the areas inside are difficult or impossible to access by wheelchair. There are also a great number of stone steps inside and several cobbled roads in the vicinity. However, there is full access for all visitors to the Jewel House and the Crown Jewels.
Toilets – Situated behind the Jewel House, easy ramp access is available.
Access to Wheelchairs – There are wheelchairs that can be found at the Welcome Centre for visitor use, but numbers are limited.
---
(Prices from £12.70)



(The best ticket deals – save up to 60% – No hidden charges)
---
---
---