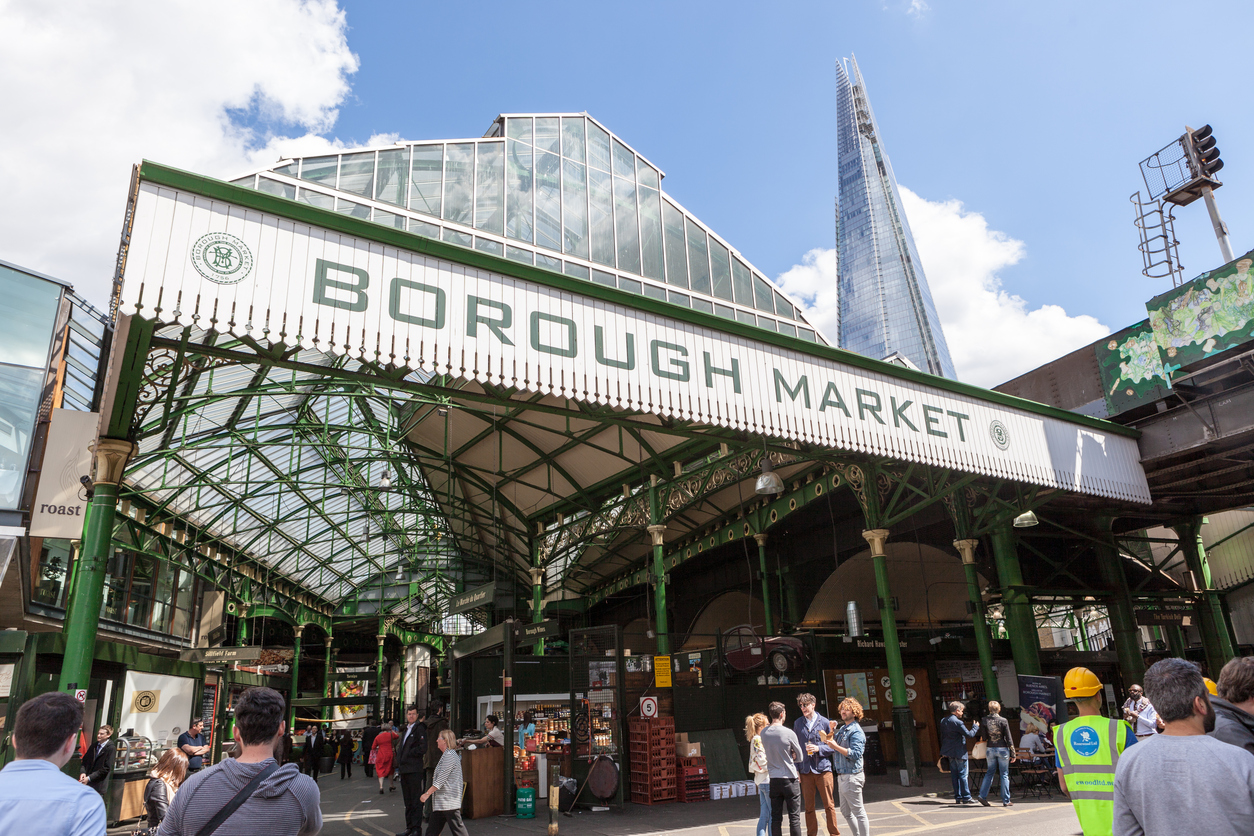 Even if you've not got a lot of spending cash, the act of wandering through one of London's many vibrant markets is both fun and completely free. Taking in the sounds, amazing aromas and colourful products on sale is a wonderful way to spend an afternoon. From the 'bric-a-brac' you might find at Brick Lane to the beautiful blooms from Columbia Road Flower Market, there is something for everyone.
Borough Market
 
Known by the locals as "London's Larder", Borough Market is situated slap-bang in the middle Borough High St, Stoney St, Winchester Walk and Bedale St. 'Foodies' will love this amazing market, as it has tastes from across the world, including italian cheese, spanish tapas and even shrimps from Morecambe Bay. Don't buy the first thing you see, as there are deals to be had and shopping around will certainly pay dividends. Whatever you pay, you'll be sure to get great, fresh and tasty food from this oldest of markets.
Nearest Tube Station: London Bridge, Borough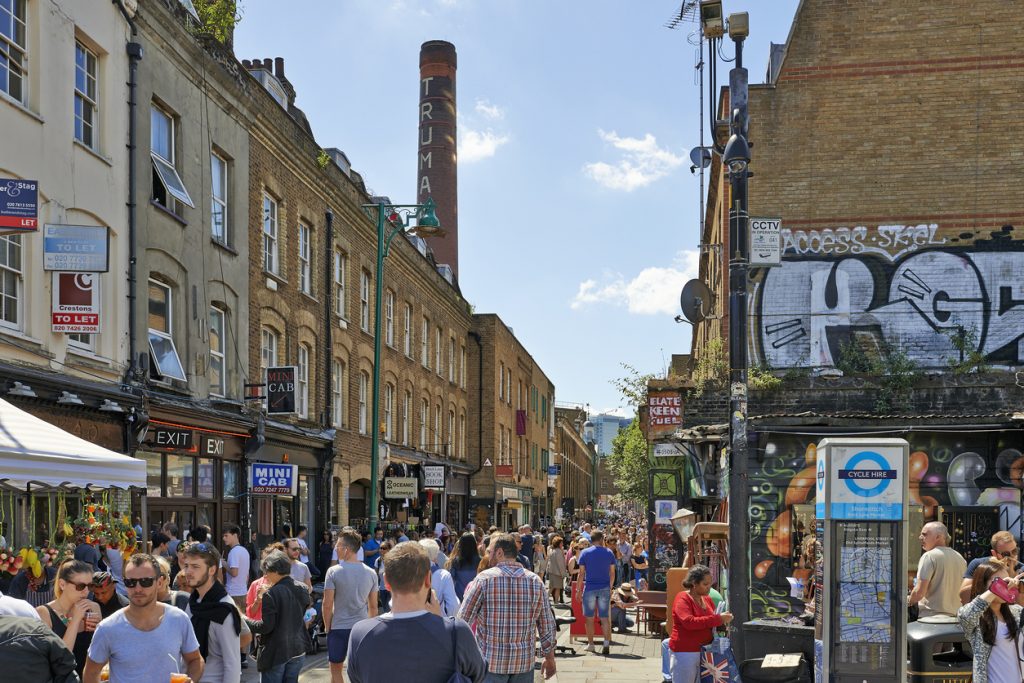 Brick Lane market
Set in the most authentic of East End of London settings, Brick Lane market offers everything you'd expect from this diverse location. You'll see Bangladeshi curry establishments, bagel shops, Indian silks and cockney stall owners pedaling their wares. The overall atmosphere is one you might expect at a carnival and on a balmy August afternoon, it is simply bustling with life. 
You'll find a wide array of goodies here, with 2nd hand furniture, vintage clothes and all sorts of bric-a-brac that you simply wouldn't get anywhere else. That's the joy that comes with Brick Lane market – you just don't know what you're going to find, which is what makes browsing such good fun! There will be a fair amount of what looks like junk, but it will be worth something to someone and you never know when you might come across a real gem for yourself.
 
Nearest Tube Station: Aldgate East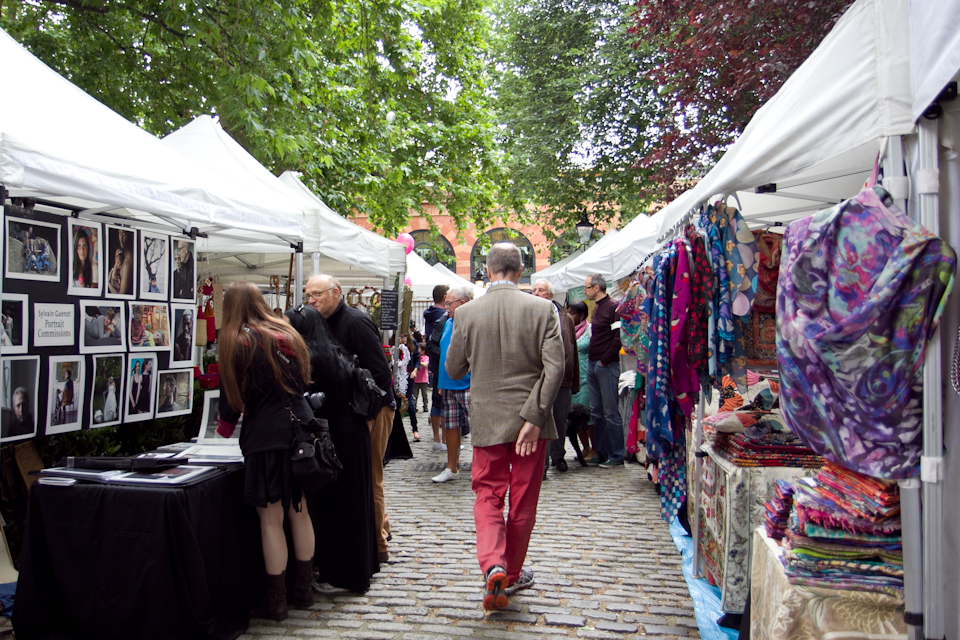 Cabbages and Frocks Market
Each and every Saturday, Marylebone is host to the Cabbage and Frocks Market, which is an amazing sight to behold. The already busy streets, lined with a myriad of different products, make for a shopper's paradise. Despite what the name of the market would suggest, there is much more on offer here, than frocks and cabbages.
Located just North of Marylebone High St, the market was created by the area's many designer fashion outlets and is now home to a wide array of stalls, selling merchandise from custom-made jewellry and vintage clothing to olive oils and vinegars. 
As they say, good things come to those who wait and the same is true with this market, as if you're willing to have good look round, you might just be rewarded with a deal on a bonafide designer outfit for a low, low price.
If food is your thing, then you'll love this place. A lot of the food on offer comes from organic sources and it represents cuisine from across the globe. There aren't many markets in the world where you could enjoy a freshly squeezed fruit juice cocktail with a plate of Bedouin food, but you can here!
Nearest Tube Station: Baker St, Regent's Park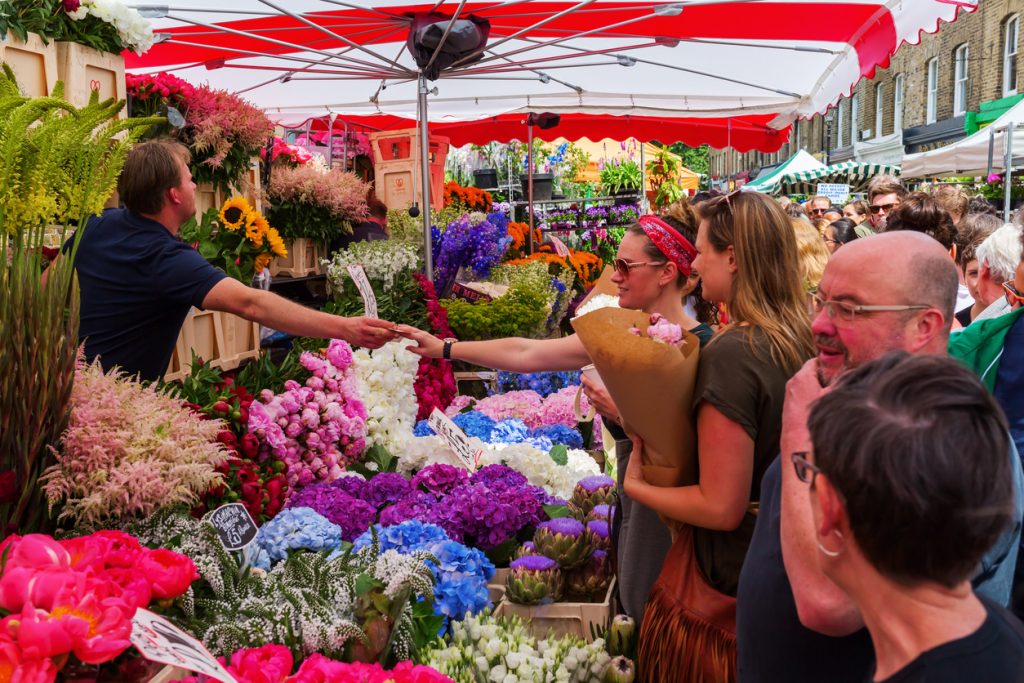 Columbia Road Flower Market
Each Sunday, the road famous for its rows of fashionable boutiques, comes alive with a visual explosion of colour from its many, many flower stalls. Of all the markets London has to offer, Columbia Road Flower Market is by far the most sweet smelling and has a dazzling range of flowers, bedding plants, bulbs, bouquets and cut flowers.
In England, we are a little bit obsessed with gardening and that obsession is catered for completely by the 50+ stalls that are populated by local growers from London and Essex. Open between 8am to 3pm, the best deals will often come at the end of the day, when the stall holders need to get rid of remaining stock for rock-bottom prices. So, it pays to be patient when shopping here.
If shopping makes you hungry, then you're in luck! There are loads of cafes, food stalls, pubs and restaurants in the immediate vicinity, so you needn't put up with your hunger for long.
If you're not into flowers, you shouldn't be put off from visiting the market, as there are some great little antique and fashion boutiques to stroll around. The area has something for most tastes and is a lovely colourful place to spend a sunny day.
Nearest Tube Station: Bethnal Green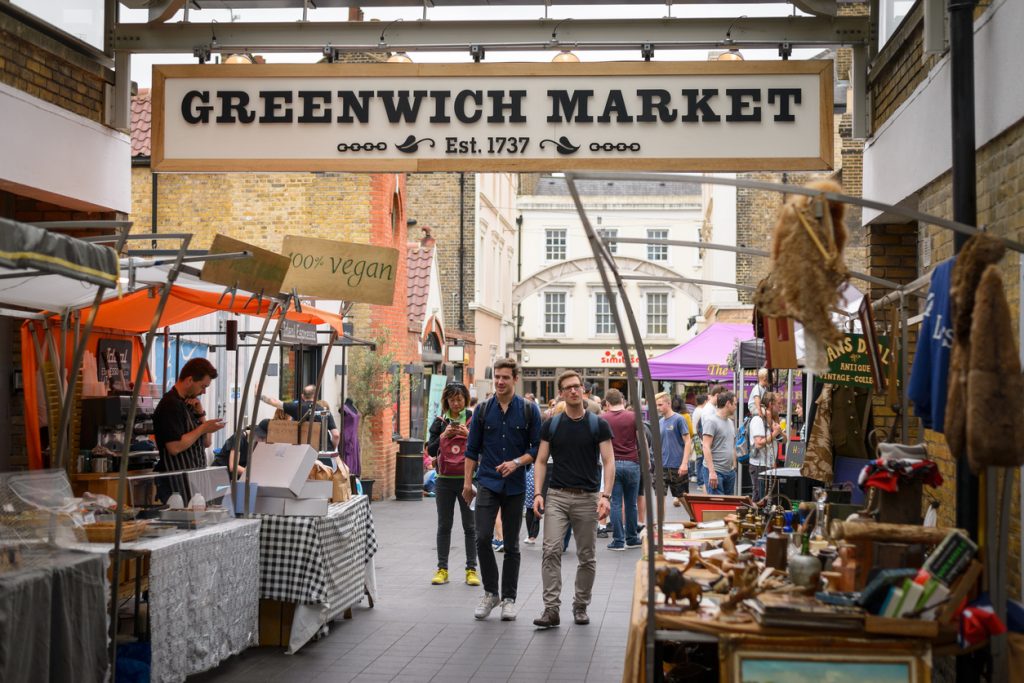 Greenwich Market
If you're an antiques buff or into hand crafted produce, then Greenwich Market should be of great interest to you. Covering the whole gamut of clothing, food and skillfully crafted goods, you will find plenty of fascination and wonderment at the things you'll find there.
The market is split into two parts, with the craft market located at College Approach and the antique part set off Greenwich High Road. 
The craft market displays an amazing variety of local and exotic crafts and has been doing so, since its creation back in the mid 1800s and you'll find unique and interesting items across its 120 stalls. From model ships to handmade jewellry, this market has everything for the crafter and is also a focal point for local 'up and coming' designers.
The antique market has everything that a would-be antique bargain hunter could ask for and a great choice of food stalls to enjoy. What could be better than a good browse followed by a burger by the river? 
Nearest Tube Station: New Cross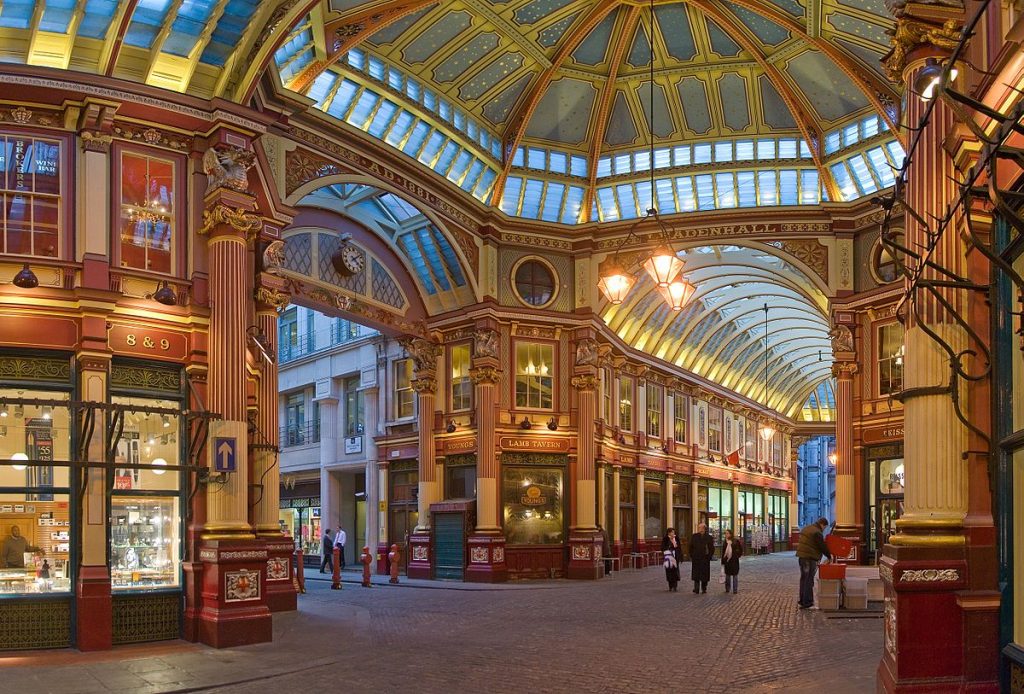 Leadenhall Market
If you're on the lookout for good, natural and locally produced meat, fish, game and poultry, then you will likely be at home at Leadenhall Market. It resides in a restored covered market from the Victorian era and is a great alternative to mass-produced high street produce.
The location itself has been used as a market for almost 2000 years, but the building that now houses Leadenhall Market has only been there since Victorian times, as its wrought and glass construction was designed and created in 1881 by Sir Horace Jones, a notable architect of the day. 
You'll often find staff from the Bank of England and Lloyds of London milling around Leadenhall Market, due to its close proximity with both buildings and is a very popular lunchtime destination for workers. We'd recommending avoiding the lunch hours, as it tends to get awfully busy.
The market is open between 11am and 4pm and can be found along Whittington Avenue and is surrounded by some of the best food vendors in London.
Nearest Tube Station: Monument, Bank, Liverpool St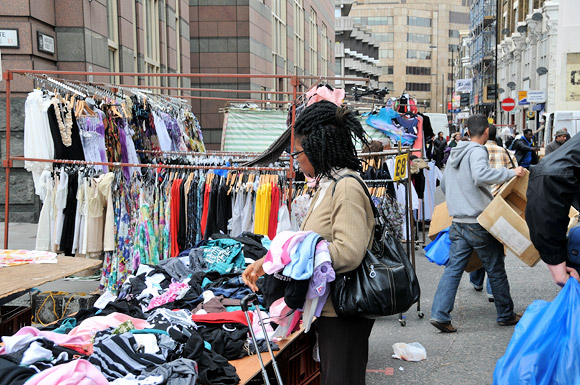 Petticoat Lane Market
This world-renowned Sunday market is famed for offering some of the finest clothes in London for men, women and children. From last year's vogue clothing to high fashion end of line garments, you're likely to find some amazing bargains at Petticoat Lane Market.
At the Aldgate East end of the market, you'll find lots and lots of household items, bric-a-brac and lots of other odds and ends too. Held between the hours of 9am and 2pm on a Sunday and a much smaller version open along Wentworth St on weekdays, bargain hunters will be in paradise, browsing through the 1,000+ stalls in view. 
Thanks to the Victorians being a little 'up tight' and not wanting to be associated in any way with lady's underwear, the name Petticoat Lane hasn't existed since 1846, but that hasn't stopped the name living on the collective psyche. 
Even if you're just out for a walk and to take the atmosphere of a busy and vibrant thoroughfare, Petticoat Lane Market is an interesting and very pleasant place to spend time. For the full 'Jumble Sale' experience, on a level most of us think isn't possible, this Market is one of the best around. 
 Nearest Tube Station: Aldgate East, Liverpool St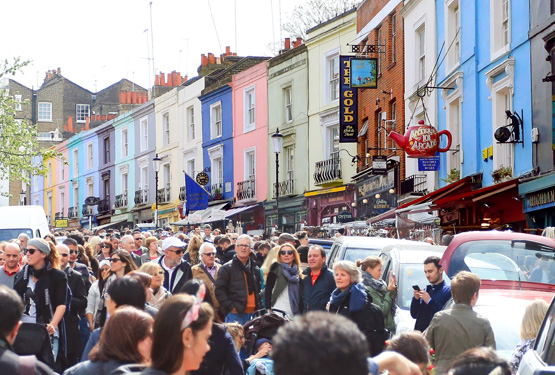 Portobello Road Market
Another famous market exists in London, in the form of Portobello Road Market. There, you will find antiques and flea market stalls in the Notting Hill area every Saturday. There are stalls there during the week, but on a much smaller scale.
The market starts at Chepstow Villas and covers the whole area from there, right up to Westway and is a trendy and colourful area that seems to go on forever. With more than 2,000 stalls operating there, selling products from general bric-a-brac to exotic food, we challenge you to NOT find something of interest.  
You will see literally 1000s of people buzzing around the stalls, haggling and nibbling on food from the many food stalls available. It really is a hive of activity. 
For those with a bit of patience, there are bargains to be had and all in the electric atmosphere that the market produces. Again, we advise going early in the day, as it is a very popular weekend destination and will get very, very busy.
Nearest Tube Station: Ladbroke Grove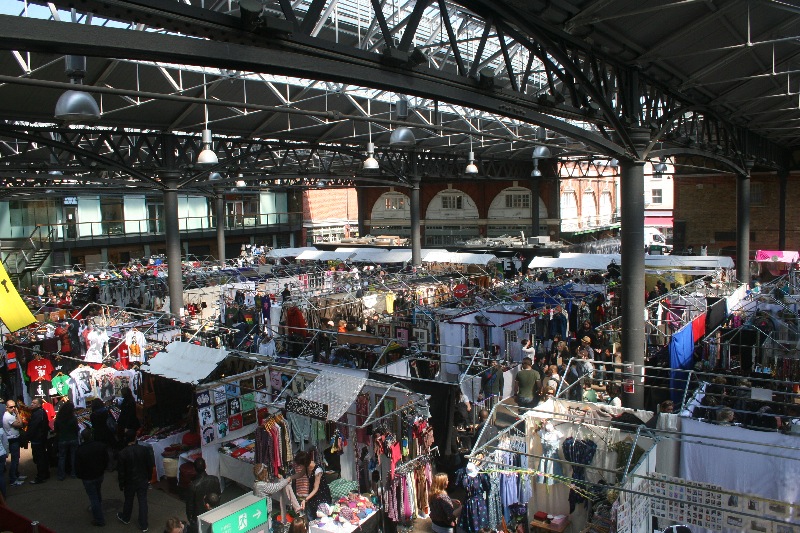 Spitalfields Market
Deep in the heart of London, under the watchful eye of Christ Church, Spitalfields Market beautifully combines traditional market stalls with the modern boutiques and eateries. If you're looking for something different, that you wouldn't find on the high street and for a competitive price, then this is the place to look.
Visit Spitalfields Market on a Sunday and it will be 'heaving' and with more than 150 stalls in operation offering quality merchandise, it's not hard to see why. It does open during the week between 10am and 4pm, but it will be much quieter, outside of the lunchtime 'dinner rush'.
There is a lot to sample in the local area, as there are so many characterful shops around, which complement the covered market perfectly. Spitalfields market has evolved over the years and as it rubs shoulders with high street retailers, offering big fashion names, such as Agnes B, Canteen and Benefit, there is the perfect mix of old market and modern retail, all in one place.
Nearest Tube Station: Liverpool St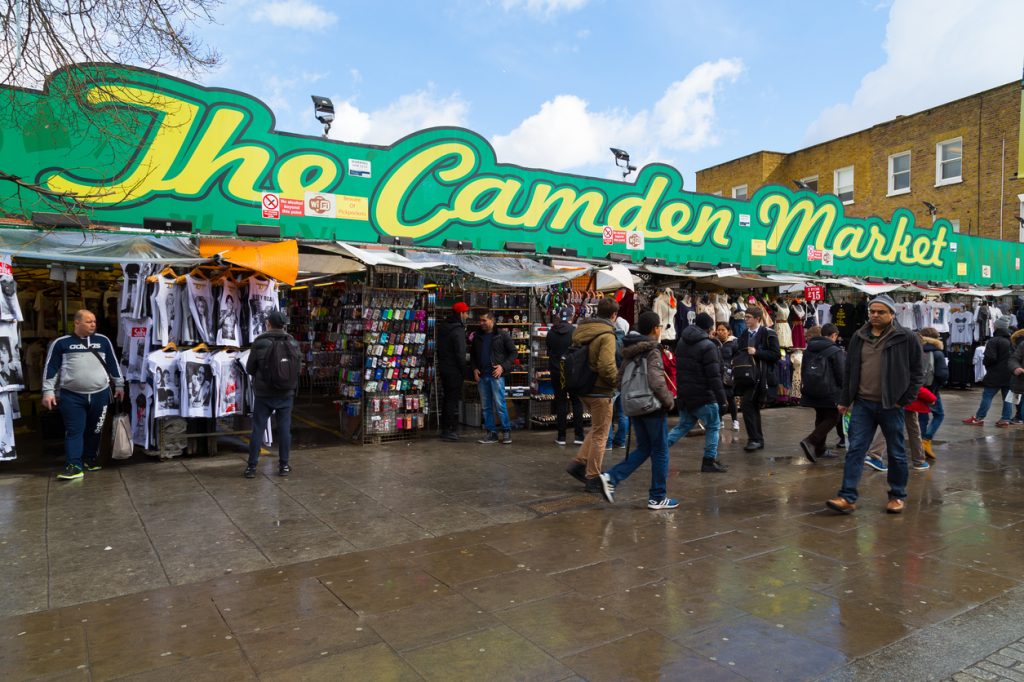 Camden Markets
The area known as 'Camden Markets' is actually made up of several different component parts, as different markets sits side by side, to create one big market shopping experience. There is a stunning array of different products on show, from clothes to antique furniture and you're likely find things hidden there that you didn't even know you needed!
The main section of Camden Markets are held at Camden Lock, Camden Antiques Market and Camden Market, which will also offers a huge selection of crafts, jewellry, antiques and clothes. 
We'd recommend you visit Camden Markets at the weekend. It might be on the busy side, but you don't get the full experience during the week. The markets are open between 8am and 6pm and offer a diverse and colourful range of products.
Nearest Tube Station: Camden Town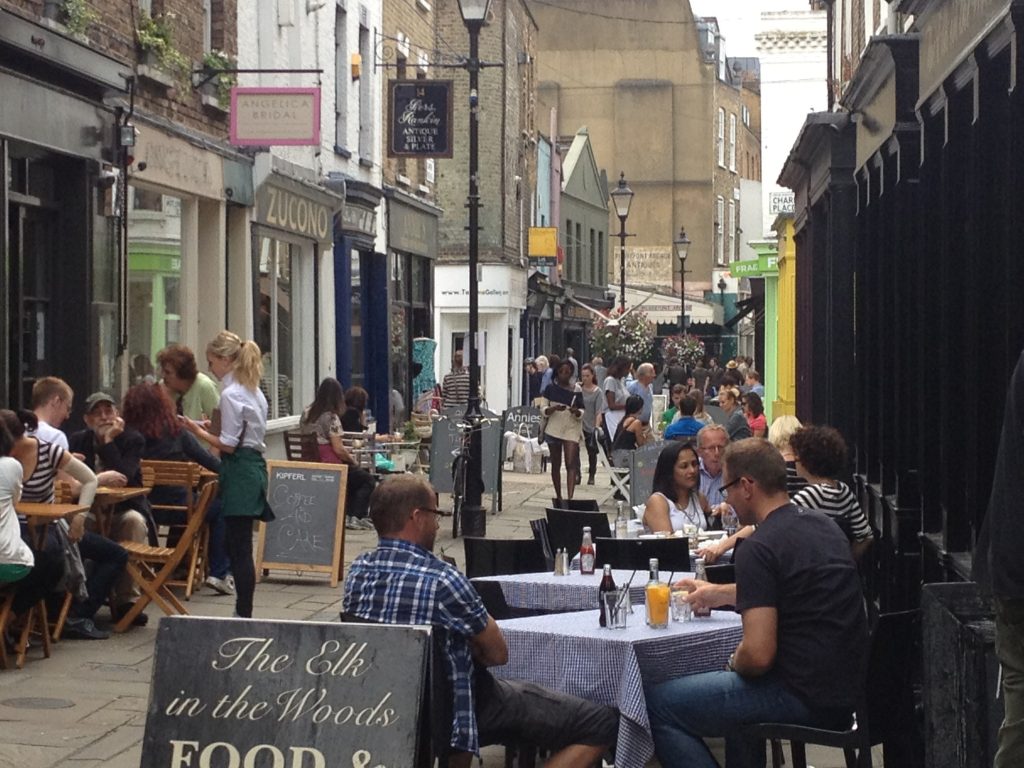 Camden Passage
Secreted down an old cobbled backstreet, sits Camden Passage, which looks more like something from a Harry Potter book than a London market. Set, as it is, amongst a raft of boutiques and restaurants, this market is the perfect place to while away an hour or two whilst browsing through the myriad of interesting pieces on show.
Camden Passage is littered with antique shops, which represent the finest the area has to offer. From toy dealers to clockmakers and everything in between, there are many hidden jewels to be found. 
Hidden amongst the throng, you can also find high quality antique jewellry and hundreds of racks of vintage clothing from specialist outlets. You won't get the usual sales experience when entering a Camden Passage, as the retailers there are famous for being knowledgeable and great to chat to.
The best days to visit this market are Saturdays and Wednesdays, as the rest of the week sees many of the smaller stalls and shops closed. Having said that, if you like organic food, you should visit on Sunday as there is a farmers' market there every week.
Also, don't be put off by closed doors on some of the antique shops there, as you need to ring the bell to be allowed in.
Nearest Tube Station: Angel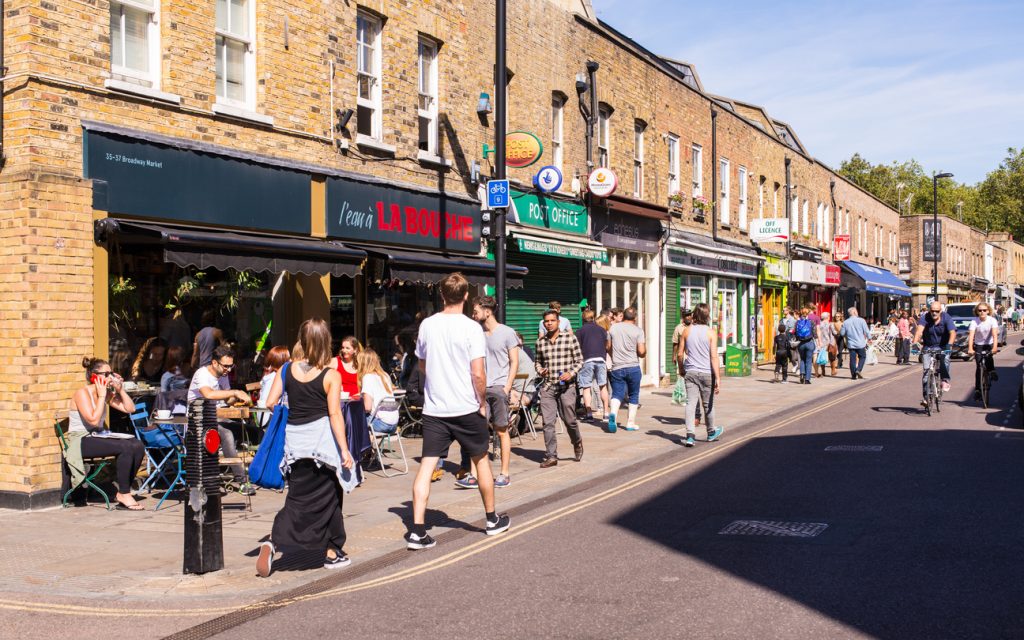 Broadway Market
This wonderful, rapidly growing market carries something of a vogue amongst the cool and trendy East London go getters. In a lovely location, sandwiched between London Fields and Regent's Canal, it has an amazing variety of goods and produce and will leave you glad you made the effort to visit it.
Amongst the produce on display, you'll find a great selection of rare breed pork, veal, seafood, venison, cheese, milk and butter, as well as a massive range of breads, pastries and even health products and vintage clothes. It's a real eclectic mix of tastes.
Back in the day, Broadway was used to herd the livestock through, on their way to their final destination at Brick Lane and the aptly named Slaughter street. Broadway market also has the accolade of being one of the original chartered markets in the London area and though it isn't what it once was, it is still, it still remains a great place to visit. 
Nearest Tube Station: Bethnal Green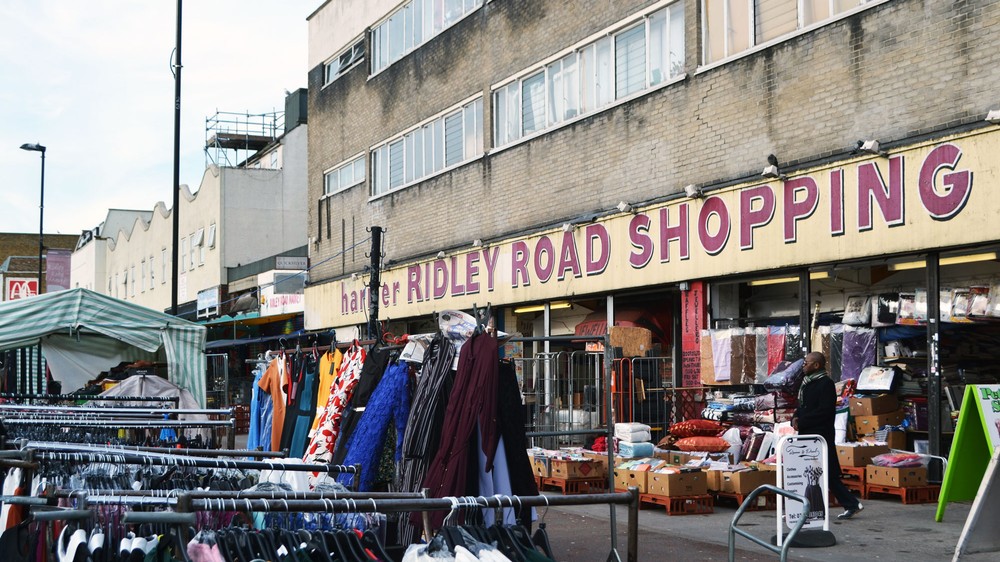 Ridley Road Market
If you're hungry, then Ridley Road Market is the market to head for, as it is focused almost entirely on providing great food. It caters for all types of tastes and features fresh fish, fruit & veg and also has speciality vendors offering Afro-Caribbean and Asian cuisine, to name but two.
That said, it's all about food, as you'll also find cheap household goods and clothes. From a pair marigolds, to tea towels and a new pair of trainers. You'll find it all. As always, we recommend shopping around or at least wait until you've seen the whole market, to make sure you're getting the best deals. 
Nearest Tube Station: Highbury & Islington
---
---