The Main Differences Between Standard and Visitor Oyster Cards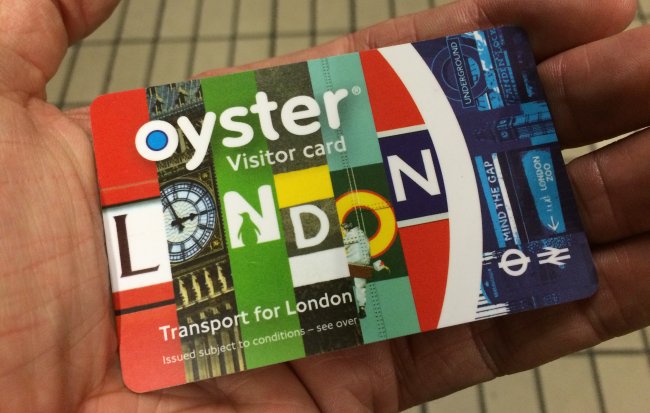 Visitor Oyster Cards only differ from standard Oyster Cards by virtue of the fact they include promotions and offers that the normal type doesn't offer. They can both be topped up at any time and the Visitor Oyster Card can even be bought online from outside of the UK, before you travel to London.
Where can I buy my Oyster Card?
If you are a UK resident, then you can purchase your Oyster Card online and have it delivered conveniently to your home prior to your visit to the capital.
If you are a non-UK resident , then you choose to either buy a Visitor Oyster card online before you leave home or you can choose to buy one at the TFL visitor centres and Oyster ticket shops in London upon your arrival. The Tramlink Shop, Croydon, is another location where one can be purchased.
Adding Credit to your Oyster Card
You choose to either add credit to your card at the locations listed in the last paragraph, or if you don't have the time, you can simply use a contactless payment card to purchase tickets for travel around the capital.
The Differences between travelcards and Oyster cards
A 'Day' Travelcard is a traditional paper ticket that permits unlimited travel within the zones paid for, for the entire day. It can be used on the Tube, London buses, the DLR, Tram and London National and Overground services in London.
Travelcards may not be used on riverboat services, but a discount of up to 30% is often given by most of the tour firms when travelcard valid for that day is presented.
It is even possible to get a big 25% off fares for the 'must see' attraction that is the Emirates Air Line cable car.
The following different 'Day' Travelcards can be purchased.
A Zone 1-4 Day Travelcard (Permitting unlimited travel in only the zones shown)

A Zone 1-6 Travelcard (This one is popular, as it covers all of Central London)

A Zone 1-9 Travelcard (including or excluding Watford Junction)
A Day Travelcard can be used at any time of the date shown on the ticket, right up until 4.30am the next day. This rule applies 7 days a week.
It is possible to buy the slightly cheaper Anytime Day 'Off Peak' Travelcard that allows travel after 9.30am during the week and all day at the weekend.
Travelcards for 7 Days
In order to purchase a 7 Day Travelcard, then it will be necessary to buy an Oyster card first. As we mentioned earlier, the £5 cost is refundable and will mean that you don't have to buy a different one every day.
It is only possible to purchase an Oyster card prior to arrival in London if you are a UK resident. If you are a non-UK resident, then you will have to wait until you get to London.
The Differences between 'Contactless' and Oyster Cards
The easiest way to describe a contactless card is to say it's the Debit Card you have with your bank. This facility allows for purchases of less than £30 to be made, simply by pressing it against the contact pad by the gates. It is not necessary to enter your pin or sign anything.
By using your contactless card when you travel in London, it can be used just like an Oyster card or Visitor Oyster card when you start and and finish your journey.
The benefits of using this method are numerous:
It's impossible to run out of credit (so long as you have funds in your bank)

Should you use the same card for every one of your trips, the price you pay will 'cap' automatically, so you'll never pay more than you should. This rule applies 7 days per week

There is no need to stop and queue for a ticket, meaning your journey is easier
Choosing the right ticket
The choice of ticket you make, will depend on the length of your stay in London and how often you'll be using public transport during your stay. 
If you are staying in the capital for up to 2 days and you plan to make between 2 and 4 journeys during that time, then using an Oyster card or your debit payment card will work out the cheapest. This also applies if you plan to visit the outskirts of London.
If your stay will exceed 7 days, you only intend to stay in Central London (e.g. within zones 1 to 4) and you are likely to make up to 4 journeys each day of your visit, then a 7 day travelcard will work out the most cost-effective ticket to buy.
If you are visiting London in a group of 10 people or more, then a 'Group' Day Travelcard will be the least expensive option. Visit TFL online for more details.
Concessions & Discounts
There are added benefits to purchasing a Visitor Oyster card, as it can be presented at a number of restaurants, museums, theatres and bars to receive complimentary food and drink and special discounts. Check out the Visitor Oyster card offers booklet online or at TFL visitor centres when you arrive for details of participating locations.
Concessions and discounts of travel tickets are available, including kids travelling free of charge whilst in the capital. Check with TFL online to find out more about adult, student and child concessions.
Overview of London Underground and Overground zones
The public transport network in London is divided up into 9 different zones. Central London is covered by Zone 1, with Zones 2-4 covering the area up to the outskirts of the capital and Zones 6-9 covering the outskirts. It is possible to download a detailed tube map online.
Oyster cards and Visitor cards may also be used on London's Overground services, which are made up of 6 different circular lines and mainly cover the outskirts and suburbs of London.
The price you pay will depend on the type of transport your choose, the zones being travelled and the time and date of your journey.
When you see 'Peak Travel' mentioned, this covers the rush hour periods during the week. Between 6.30am and 9.30am and 4.30pm to 7.00pm. To make your journey during these times will cost you more. All other times are considered 'off-peak', which also includes weekdays that fall on a bank holiday.
Here are a few examples of you can expect…
The capped price you can expect to pay as an adult travelling on an unlimited basis after 9.30am each weekday will work out as follows:
£6.60 for Zones 1-2
£9.50 for Zones 1-4
£12.00 for Zones 1-6
A 'Paper' Day Travelcard is valid for use after 9.30am on weekdays and all day at the weekends and one covering all zones 1-6, will cost £12.30. 
---
---