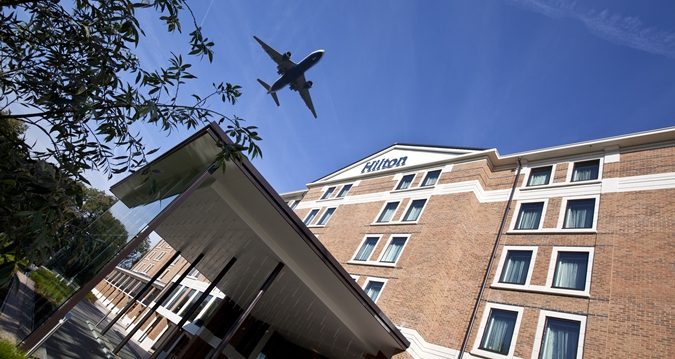 ---
The Capital city is served by 5 different airports;
London City Airport (situated in the Royal Docks, East London)

Stanstead Airport (30 miles to the North, in Essex and a favourite of the budget airlines)

London Gatwick Airport (28 miles to the South, in West Sussex)

London Luton Airport (34 miles to the North West)

London Heathrow Airport (14 miles to the West and the largest airport in the UK)
Heathrow is one of the world's biggest and busiest airports, featuring two major runways and 5 terminals. It is easily accessed from the centre of London via express rail links, as are Stanstead and Gatwick. 
Other Ways to Get To London's Airports
You could choose to jump in a black cab, which is certainly the most convenient way to get there. However, you will almost certainly be in for a shock when you're told how much it is. A typical cab ride from London to Heathrow from central London will set you back anywhere between £50 and £70. That said, if you prearrange a taxi, rather than flagging one down on the street, you'll enjoy much more competitive rates. Specialist airport transport transfer taxi firms work out much, much cheaper than a Hackney Cab and will meet you at the terminal to help you carry your bags.
If you'd prefer a coach to take you to Heathrow or Gatwick, National Express run a direct airport service, which takes around an hour and a quarter to get you to your destination and can cost as little as £5.
Should you prefer to take your own car, it is possible to park in a long or short stay car park, which includes a valet service for that extra bit of luxury and convenience. Some of the parking available is run by independent, external firms, which provide facilities away from the airport grounds. These companies will usually operate a minibus service to take you to the terminal. Spaces at these types of facilities typically need to be pre-booked.
Airport Hotels
Major Hotel names such as the Hilton and Holiday Inn operate at Gatwick, Heathrow and Stanstead and will generally be a lot cheaper than in central London.
If you'd like to sample accommodation that is more than just functional, you should consider the recently opened Radisson Blu, Stanstead, where you'll discover the unique sight of their 'Wine Tower', which is over 40ft high and is interestingly manned by acrobats on wires, who retrieve wine from the over 4,000 stored in it, and bring it to the bar area. It is a sight to behold.
---
Our favourite London Heathrow Hotels
---
Our favourite London Gatwick Hotels
---
Our favourite London Stansted Hotels
---
Our favourite London City Airport Hotels
---
---