Free Entertainment in London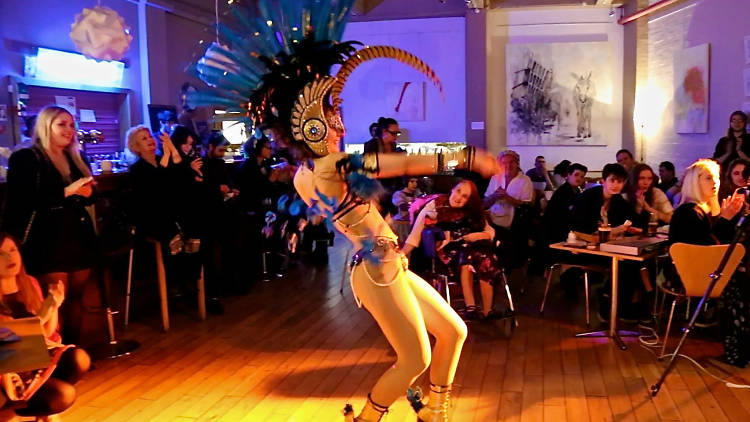 If you'd like to spend some time in the bustling metropolis that is London but don't want to take out a small bank loan to pay for it, don't worry, there are plenty of free alternatives to being entertained in England's capital city.
---
Despite what you may have heard, it doesn't necessarily cost 'an arm and a leg' to have a good night out there.
---
You need the inside knowledge, which we're about to help you with…
---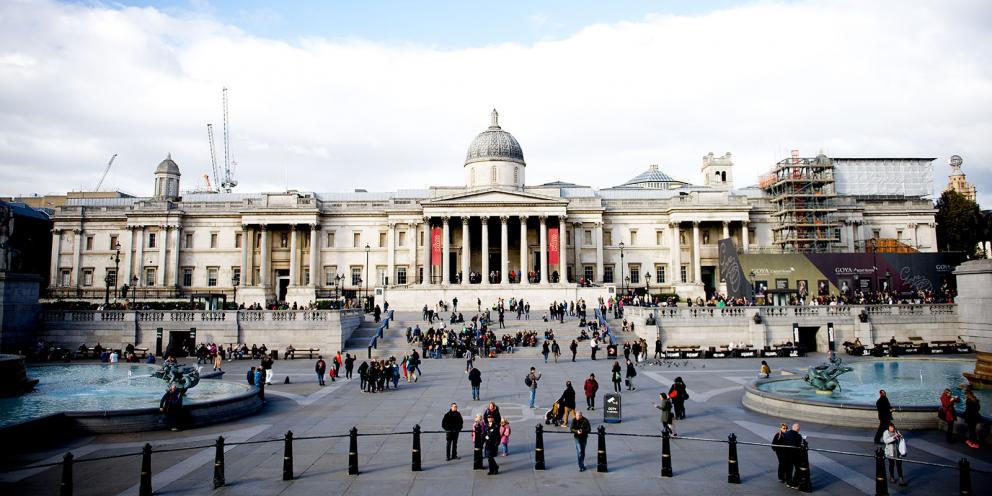 ---
Trafalgar Square
---
Right in the city's heart, Trafalgar Square has seen its fair share of life over the 200 hundred years since it was created to commemorate Lord Nelson's Victory over Napoleon Bonaparte.
---
During that time, it has seen marches, protests and a good deal of celebrations as well.
---
You'll find many free events there throughout the year, some of which are hosted by the London Mayor, celebrating London's incredible diversity and history.
---
From the St Patrick's day celebrations to transporting the enormous Norwegian pine tree erected before the Christmas period, there's usually a lot going on.
---
Street performers also favour the area, so something is always happening.
---
Festivals, including Chinese New Year and Christian New Year, see the site adorned with colours and life, and the great thing is, none of this costs a penny.
---
When needed, a giant screen can be erected to show major sporting events, such as Wimbledon Tennis, The Olympics and the World Cup.
---
For example, visit the area where England is playing in the soccer World Cup, and you will be met with a sea of red and white!
---
Whether your visit to Trafalgar Square coincides with a significant event or festival, the area represents one of the best free attractions that London offers.
---
And adorned as it is by Nelson's Column and flanked by the National Gallery, there's an activity every way you look.
---
Sit and eat your lunch by one of the imposing bronze lions or cool down on a hot summer day next to one of the numerous fountains and you'll see just how much culture the City of London has.
---
There is even something called 'The Fourth Plinth', which displays contemporary art and is changed every year to 18 months.
---
Nearest Tube Station: Charing Cross, Leicester Square, Embankment, Piccadilly Circus
---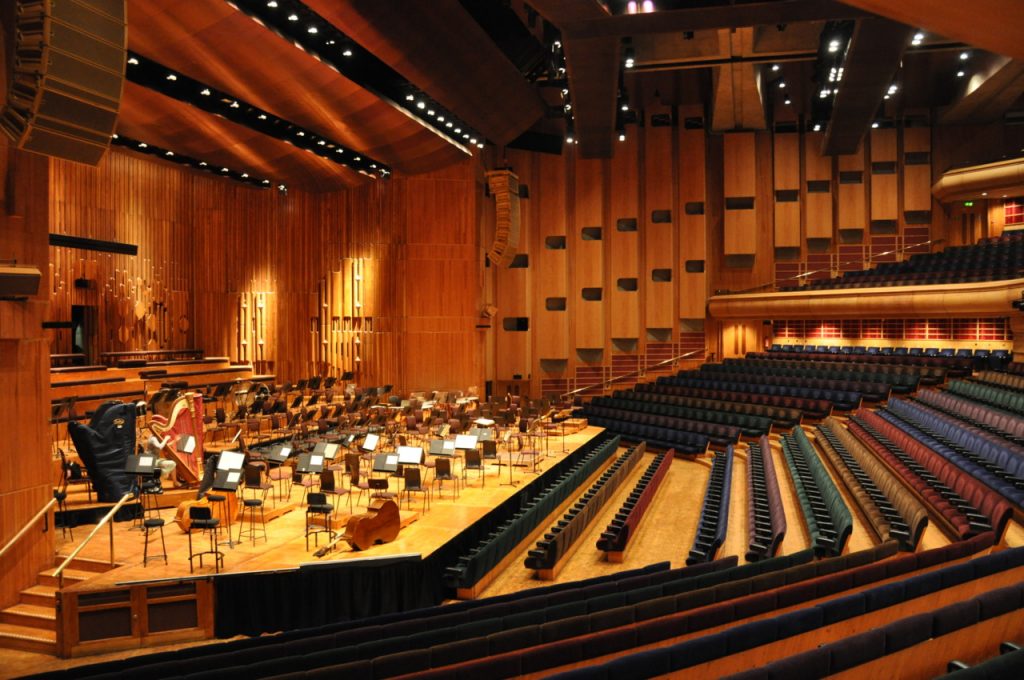 ---
Free Art at the Barbican Centre
---
As one of the capital's two most important centres of art and stronghold of culture, the Barbican Centre truly brings art to the masses.
---
What's more, it doesn't have to cost anything, because, in addition to the regular paid events, there are free exhibitions, music, festivals and concerts throughout the year.
---
It's not unusual to see a celebrity of the art world in the Barbican's many nooks, giving a talk to a small assembled crowd.
---
An audio guide is recommended to enable you to navigate the building, as there are quite a few areas where it's easy to get lost.
---
However, don't let this put you off, as it is one of London's most impressive sites of cultural interest.
---
Nearest Tube Station: Barbican, Moorgate
---

---
Free Music Recitals
---
Should you have a penchant for classical music, you should head towards the Southbank at lunchtime on a Friday or a Saturday.
---
If you do, you'll witness one of the free concerts it offers in its central bar.
---
You can also experience free poetry recitals and book readings on the 5th floor of the Royal Festival Hall.
---
You can visit the Southbank Centre's website for a complete list of all upcoming free events to find the best times.
---
Once you've sampled everything the centre offers, you can take a pleasant stroll along the Southbank, where you'll find quaint book stalls and one of the city's premier BMX and skateboarding areas.
---
A fact that makes this area much loved by people from all walks of life.
---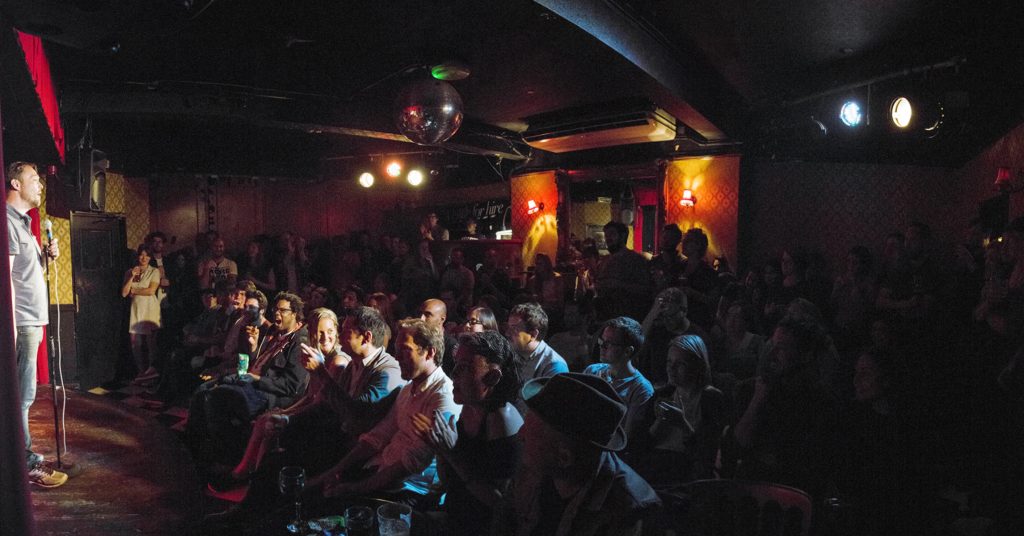 ---
Free Comedy
---
If you visit the Comedy Cafe, you aren't going to see Eddie Izzard, Bill Bailey, or any of the UK's headline acts you'd find at the Hammersmith Apollo.
---
Still, you will see some funny men and women who treat the cafe as an 'open mic' venue.
---
Wednesday night is 'New Act Night', which usually means that you will see a complete 8 acts whilst you're there.
---
You may not see some of the acts we mentioned earlier now; it was once a popular spot for famous comedians such as Jo Brand and Mark Lamarr to refine their art.
---
You never know; you may see the next Jimmy Carr just before they hit the big time.
---
There are many venues in London to see comedy, with the Queen's Head Pub near Piccadilly Circus being another location that offers free comedy with a pint of beer or three.
---
Another is 'The Carnivale' off Whitechapel Road, which holds open mic nights, which can be enjoyed for a few pints, usually on a Monday night.
---

---
Free Classical Music
---
There is no better place to enjoy classical music organ recitals than in one of London's many churches and cathedrals, which offer unmatched acoustics due to their large, ornate design.
---
Even better, many performances carry no cost to the viewer, and some of those can be enjoyed at Southwark Cathedral.
---
Dating far back to the beginning of the 13th century, Southwark Cathedral is London's oldest church in the Gothic style.
---
In this historical setting, regular free concerts and organ recitals are held, usually on a Monday lunchtime or Tuesday afternoon.
---
There are also frequent choral services, during which Southwark Cathedral's magnificent Lewis Organ comes into its own.
---
If you can't manage to attend a free concert, you can still come and explore the cathedral during the day, which, again, won't cost you anything.
---
One of the things you'll find if you walk through is a chapel in memoriam of John Harvard, the English minister who gave his name and lots of money to the famous Harvard University.
---
Regarding entertainment, St James's Church in Piccadilly is known for a busy program of attractions and events, some of which are free to enter.
---
So you can experience almost a full hour's worth of recital, and all it would cost you is a 'suggested donation' when you leave.
---
Everything you give goes directly to help fund the church's upkeep.
---
St Martin-in-the-fields Church, near Trafalgar square, can also be a venue for free music, as classical choral music often rings out from the roof area.
---
In addition, candlelit concerts occur from Thursday to Saturday, and there are free recitals at lunchtime on Mondays, Tuesdays and Fridays.
---
You should know that this particular church is known as 'Ministry to the Homeless', so any donations you give will be gratefully received.
---
Nearest Tube Station: London Bridge
---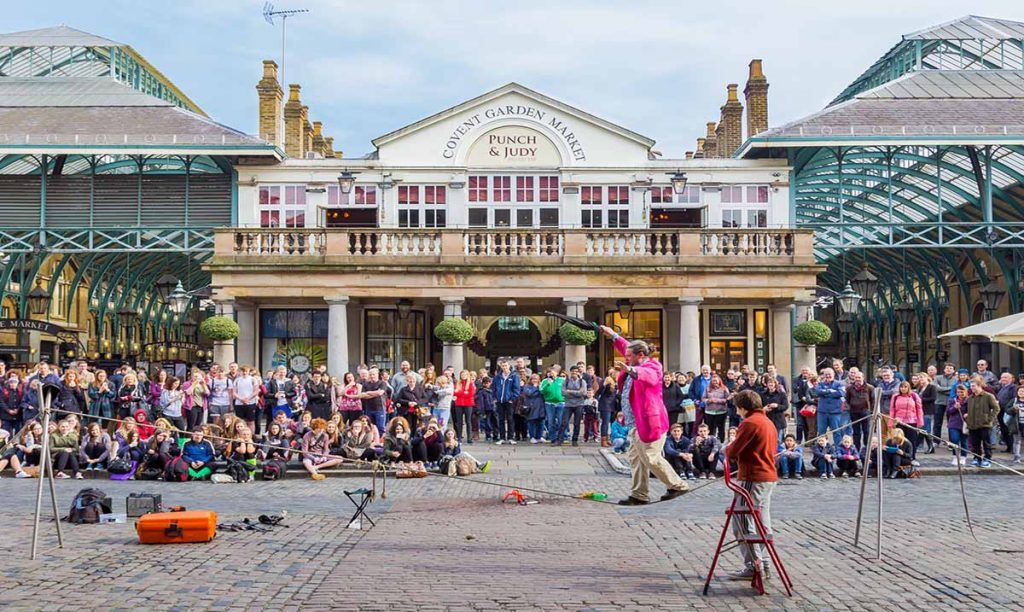 ---
Free Street Theatre
---
If you're a fan of open-air street theatre, then is no better place to see it than at Covent Garden, where the Piazza meets the market.
---
On an expansive area of cobbled stones, there are street musicians, jugglers, mimes, magicians….well, everything that street theatre provides.
---
When the Royal Opera House is in session, it is possible to view proceedings on big screens around Covent Garden.
---
Be it ballet or opera; you won't miss a beat!
---
There is also a decent-sized market nearby, selling antiques, clothing, various crafts, and homeware.
---
It's a great place to pick up a lovely present for a loved one or to provide yourself with a bit of retail therapy.
---
Nearest Tube Station: Covent Garden
---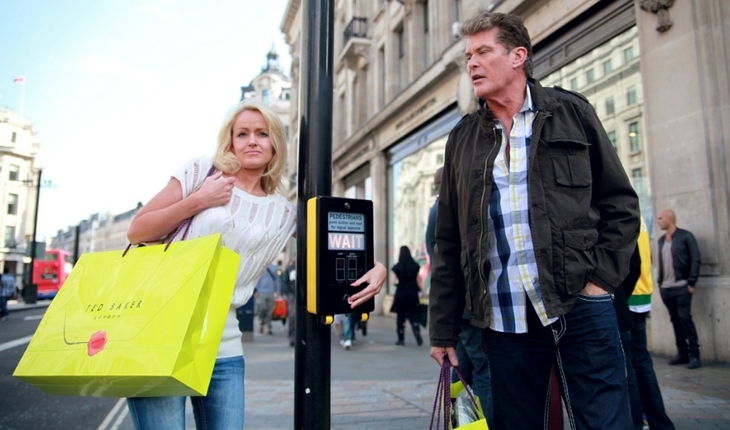 ---
Free Star Spotting
---
If you come to London looking to see a film star or two, Leicester Square is the best place to see them.
---
Whenever a big premiere of the latest blockbuster happens, it will be there, and all you need to do is be outside to see all the glitterati going in via the red carpet.
---
You may not get close enough for an autograph, but it's still a great place to see them.
---
Get there early though, because when it's known that film stars are in town, it will draw a large crowd and you want to be near the front for a good view.
---
Premiers start around 7, so you should get there a couple of hours before.
---
Leicester Square is right in the centre of London's famous West End, the area that London musicals have called home for hundreds of years and is known for attracting the very finest in acting talent.
---
Walk around the site, and you'll likely see buildings covered in advertising for the latest show.
---
Nearest Tube Station: Leicester Square
---
---
Free Gigs
---
Going to regular concerts in London can be a bit pricey, but that's not to say that there aren't any concerts you can attend for free, because there are!
---
It is a case of 'suck it and see', as you might not know what you're about to witness, but that is part of its charm.
---
You could be watching the next big musical act or someone who shouldn't be on the stage, but that's the gamble you take.
---
However, if it's free, you can't complain.
---
Suitable venues to keep your eye on include; The Lock Tavern, Ain't Nothing But Blues Bar and Notting Hill Arts Club, all known for holding regular gigs for free and 'open mic nights.
---
These free gigs may have a time restriction like 'Free entry before 10 pm', so always check online for dates and other relevant details.
---
Other venues include Rough Trade London Stores (East & West), which hold free bi-weekly events.
---
However, it would help if you had a wristband to get in, which is given out around an hour before the gig on a first come, first served basis.
---
Alternatively, if you love the band, you're about to see; you can buy their album on the day, often giving you free admittance to their gig.
---
If Jazz is your thing, then you should head over to Ray's Jazz Cafe, in Foyles bookshop in Charing Cross, where live jazz sessions are known to belt out to the watching crowd during the afternoon.
---
A great way to spend an hour or two…and all for nothing!
---
During the Summer, London is the location for many free music festivals, with Notting Hill being the most notable.
---
In addition, the higher temperatures in the summer open up another source of free music – London's bandstands.
---
Still, in regular use, these beautiful iron pavilions look amazing.
---
They can be found in areas like Clapham Common and provide the venue for all types of music, including folk music, Jazz and Opera, between June and September.
---
Best of all, it will cost you precisely zip!
---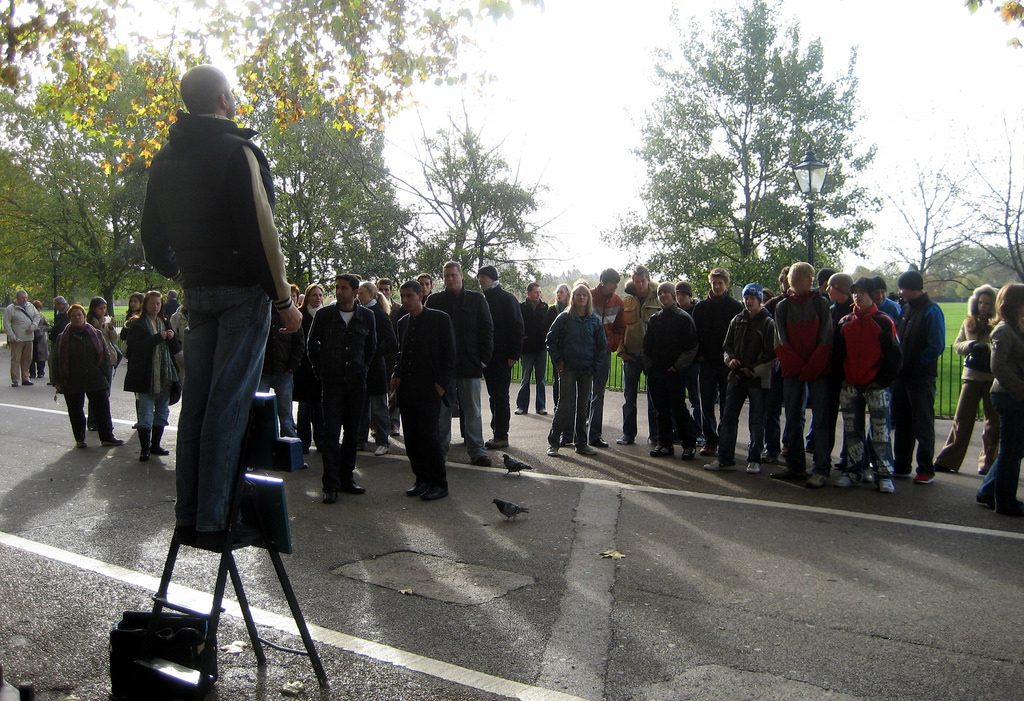 ---
Free Speech at Speakers' Corner
---
Whilst this isn't strictly 'entertainment', Speakers' corner is a monument to free speech and free assembly in the United Kingdom.
---
Located on the corner of Cumberland Gate and Park Lane, the area is the spiritual residence of British democracy.
---
Since 1872, it has been legal to assemble in these areas and put the world to the right.
---
But, unfortunately, only some get an easy ride, with heckling being common.
---
You have the right to free speech, but don't expect everyone to agree with you!
---
There are almost no topics that can't be argued for or against here, with George Orwell, Karl Marx and William Morris amongst those who have previously used the spot.
---
The speakers found there vary greatly, so don't think you don't have the right to speak.
---
If you have something you want to shout out to the world, then this is the place to do it.
---

---
Free Lectures
---
If you want to take in some history, there are free lectures regularly at the major galleries in London.
---
Venues such as the Barbican, Tate Modern and National Portrait Gallery (to name but a few) provide free talks by experts in the field of discussion.
---
Museums also offer education in the form of talks and are free of charge.
---
So, for example, you could learn about Science at the Dana Centre or anthropology at the Natural History Museum.
---
Whatever your choice, there will be a lecture for it.
---
Smaller establishments like the Wellcome Collection and the Rich Mix centre also offer free lectures, discussions and debates, and free book signings from well-known literary lights.
---
Waterstones is a suitable venue for regular book signings, so watch their website for upcoming events.
---
You can get a free drink and a biscuit out of it.
---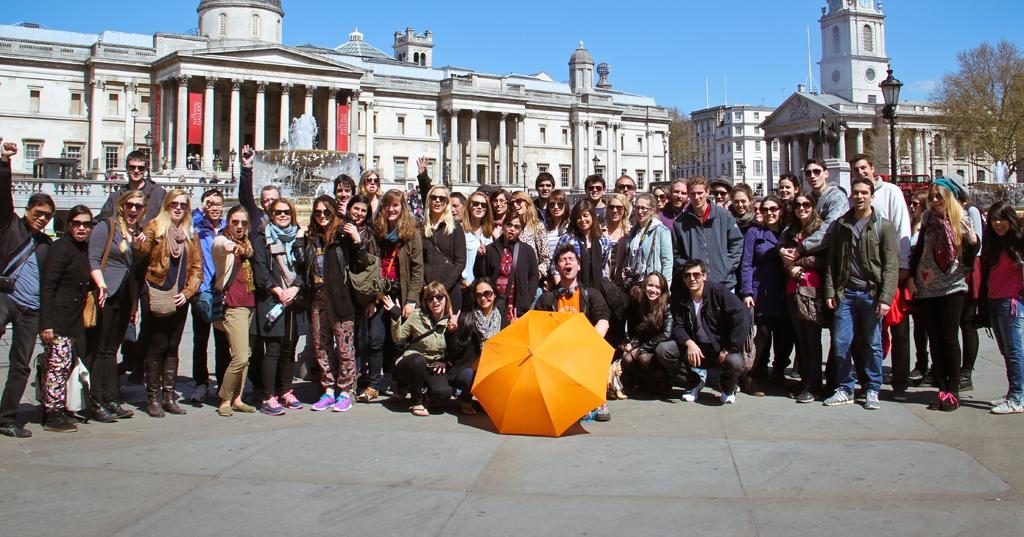 ---
Free Walking Tours
---
Another great way to see London is by attending one of the available free walking tours.
---
Taking you much closer to each landmark than an open-top bus would, you can get up close to significant sites of interest.
---
Golden Tours offers three different walking tours along various routes through vibrant and exciting parts of the city.
---
For example, you could take in the changing of the guard at Buckingham Palace or walk in the footsteps of the Beatles along Abbey Road.
---
There are many places of significance in this great city, and you can see them all for free.
---
Other popular locations to view include; 10 Downing Street, Westminster Abbey and the Tower of London.
---
There is no better way to see the landmarks, and you'll get some exercise too.
---
London is a vibrant city that offers endless entertainment options for tourists.
---
So whether you're interested in history, art, music or theatre, there is something for everyone.
---
Here are some of the top free entertainment options in London:
---
Museums: London is home to some of the world's most famous museums, including the British Museum, the National Gallery and the Natural History Museum. Best of all, these museums offer free admission, allowing visitors to immerse themselves in the city's rich cultural history.


---

Art Galleries: London is home to a thriving art scene, and many galleries offer free exhibitions. From the Tate Modern to the Saatchi Gallery, there is something to suit all tastes.


---

Street Performers: Head to Covent Garden and watch the talented street performers, including acrobats, magicians and musicians. It's a lively and entertaining spectacle that will delight visitors of all ages.


---

Park Life: London has many beautiful parks perfect for picnics, walks, and relaxation. Hyde Park, Regent's Park, and Greenwich Park are just a few options available.


---

Festivals: London hosts numerous festivals throughout the year, from the Notting Hill Carnival to the Summer in Southbank. These events provide a vibrant atmosphere, live music, and food stalls.


---

Free Tours: Take a free walking tour and discover the city's hidden gems, from the hidden alleyways of Shoreditch to the bustling streets of Soho.


---

The South Bank: The South Bank is a hub of activity and is home to several free attractions, including the London Eye, the National Theatre and the BFI Imax.


---

Open Houses: London's many Open House events allow visitors to explore some of the city's most iconic buildings and homes.
---
In conclusion, there is plenty of free entertainment options in London.
---
So, whether you're a first-time visitor or a seasoned tourist, take advantage of all the city has to offer.
---
Guoman Hotels in London
---
An exclusive collection of four and five-star hotels in London, nestled in some of the city's most stellar locations.
Great Cumberland Place, The Royal Horseguards Hotel, and The Tower Hotel.
Each has its own character, identity and style – from exquisite elegance at the Royal Horseguards, to contemporary comfort at Great Cumberland Place.