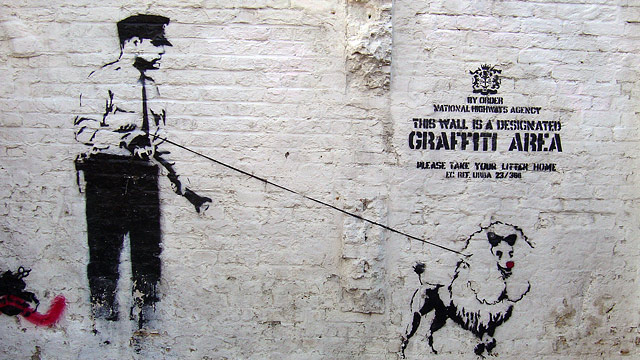 London is a hotbed of art, boasting names like 'Banksy' amongst their number.
---
Step outside and walk through the capital's streets, and you'll see the rich tapestry of urban art on show.
---
It can be found in almost every corner of the City, and the good news is that it is free for the public to enjoy.
---
From contemporary sculptures, modern murals, enigmatic installations and statues of historical figures, there is Street Art everywhere you look in England's capital city.
---
It's not just locals that have adorned the streets with uncommissioned art, as the concept is so well recognised that it attracts international artists who produce a wide variety of pieces, from enormous multi-storey murals to miniature statues of bronze.
---
Banksy above is recognised worldwide, with his (or the identity of this artist still needs to be confirmed) unique and iconic stencilling seen on urban buildings in the world's urban areas since the early nineties.
---
However, it is still possible to see works by this artist if you have the time to seek them out.
---
---
Something like 125 exists worldwide, from Jerusalem to Bristol to London.
---
To learn more about street art in London and where to find it, you should visit http://www.ldngraffiti.co.uk.
---
Street Art in Shoreditch
---
Shoreditch is one of the most fruitful locations for discovering unique street art, and the art that can be seen there changes almost every day.
---
So rather than wander around yourself, there are Shoreditch Street Art tours available, which will give you a much better chance of finding what you're looking for.
---
A popular choice is to combine this with an 'Eating Tour', taking in the best East London cuisine offers.
---
This lively part of the East of London is something of a 'blank canvas' used regularly by the many practising street artists, and some of the fantastic stickers, stunning murals and paintings that can be seen in the area will leave you wanting more.
---
One example of the striking artwork that can be witnessed takes the form of a magnificent 30 feet high bird on Hanbury Street. It truly is a sight to behold.
---
---
Street Art in Croydon
---
Street Art is synonymous with the area of Croydon, and some of the city's best up-and-coming artists showcase their work there.
---
London is a breeding ground for the art form, and the work being done in this part of the capital ensures that the very best talents have a place to showcase their work.
---
The RISEgallery is a centre for urban, contemporary and pop art from the post-war period.
---
It works closely and supports both established and burgeoning artistic talent from around the world.
---
Another speciality of this gallery is promoting the street art scene in London, as they actively encourage up-and-coming and top-level artists to fill their galleries with their work.
---
Notable artists that have seen work exhibited there include Damien Hirst, Andy Warhol and Banksy.
---
As well as using their premises, RISEgallery is the driving force behind 'The Arts Quarter Project', providing a point of mediation between street artists and landowners.
---
This allows public areas to be set aside for street art for people passing to enjoy.
---
---
Memorial Street Art in London
---
Street art covers many social topics, and a raft of 'Memorial' street art pays tribute to some of the most extraordinary musical talents to herald from the city of London.
---
The life and career of Amy Winehouse are celebrated in an exhibition in Camden, where striking pieces by notable artists Bambi, Icarus and Pegasus can be found.
---
If you're a fan of the late David Bowie and George Michael, you'll love the fantastic mural in Shoreditch created in their memory.
---
There's even a tribute to Prince in Turnpike Lane.
---
---
Public Art in London
---
Public art differs from the street in that it is commissioned officially and forms part of an installation.
---
The Fourth Plinth is a great place to check out some of the most controversial examples of public art.
---
---
The story behind the empty plinth next to Nelson's Column is that during the 1840s, four plinths featuring statues of George IV, two of his generals and a statue of a horse were meant to adorn them in Trafalgar Square.
---
However, before it was completed, funding ran out and left the fourth of the plinths empty.
---
This remained the case for over a century and a half until 1999 when it began to be used to showcase commissioned art.
---
---
Previous exhibitors on the plinth include Antony Gormley and his intriguing 'One & Other' piece that involves members of the public standing there for an hour each.
---
Right now, it is possible to see David Shrigley's 'Thumbs up' statue, which has drawn critical acclaim since its installation in September 2016.
---
Canary Wharf is also a great venue to see public art, with a particular speciality for sculptures.
---
The office blocks and shops are interspersed with greenery and statues, a beautiful way to exhibit exciting contemporary art against high commerce.
---
The 'Follow The Line' tour goes between Queen Elizabeth Olympic Park and The O2 and is conducted without a tour guide present.
---
On your journey, you will encounter sculptures by famous artists like Gary Hume, Alex Chinneck, Eduardo Paolozzi and the inimitable Damien Hirst.
---
Another prime London location for public art is Spitalfields, which tells a story of the historic area it is displayed in.
---
One such piece is Kenny Hunter's 'Goat', which stands 11 feet high in its Bishop's Square location.
---
This statue references the non-conformity of the local population, whilst 'Lines of Communication' is the brainchild of Craft & Pegg and relates to the Civil War Fortifications that once existed in London.
---
More than 60 pieces of art can also be seen in Lewisham, from interesting work like 'The Catford Cat' to the funny Artmonger murals, a tradition in the area.
---
For more information on past, current and planned public artworks, you should visit the Lewisham Council website http://www.lewisham.gov.uk.
---
Find 15 of the best of London's Street Artists
---
Here is some helpful information to help you seek out the best street artists currently plying their trade in the capital. Here are our top 15.
---
1 – ROA, heralding from Belgium, is responsible for 'The Crane' on Brick Lane. His iconic monochromatic animals can be witnessed all around the world.
---
2 – Stik is one of the prominent street artists on the scene. In Acton, West London, his 'Mother & Child' work can be seen by air passengers landing at London Heathrow Airport and is noted for being the biggest uncommissioned work of art in the City…ever! @stikstudio
---
---
3 – The curiously named 'Phlegm' is a London-based artist with a raft of characters in his repertoire. @phlegm_art
---
4 – C215 – An artist from France who creates portraits using finely detailed, multi-layered colours and textures. @christianguemy
---
5 – Bambi is the pseudonym of the anonymous street artist from London, who uses modern-day society and contemporary cultural icons as inspiration. @therealbambistreetartist
---
6 – Hailing from Paris, Space Invader is one of the busiest street artists the world has ever seen. Prolific in the amount of work he produces, he plays games with people, inviting 'players' to earn points by finding hidden pieces of his work. @invaderwashere
---
7 – Jonesy is a street artist of some note, with some of his amazing work selling for thousands and thousands in art galleries. Pieces by this artist can be seen in the East of London, particularly along the many canals in the area. @jonesy_street_art
---
8 – For vibrant and colourful street art, Sweet Toof is known for his iconic, signature 'Teeth and pink gums' style, with which he has made his name. @thesweettoof
---
9 – The pavement artwork of Ben Wilson is amongst the most difficult to find, particularly as he only operates in North London. His skill and creativity allow him to create complex works of art out of used and discarded chewing gum. Over 400 art pieces can be found on the Millennium Bridge.
---
---
10 – The creator of the amazing David Bowie mural, Jimmy C, is an artist from Australia whose work can be seen across the world, as well as in London. @akajimmyc
---
11 – Eine is a trailblazer, the first British artist to have a piece of his work hanging on 10 Downing Street. Given to ex-Prime Minister David Cameron by ex-President Barack Obama during an official state visit. @einesigns
---
12 – One of the first in Britain to produce stunning feminine portraiture using spray paints, David Walker has created some amazing street art that has to be seen to be believed. @artofdavidwalker
---
---
13 – El Mac uses an ingenious method of freezing his spray paint cans, which lowers the pressure inside to create a soft and misty effect. Beautiful stuff! @mac_arte
---
14 – Creating a brilliant blend of street art and fine art, Conor Harrington is an Irish artist who produces great and striking works of art. @conorsaysboomr
---
15 – A unique and brilliant artist who creates three-dimensional works of art is the artist from Portugal – Vhils. By plastering walls and then chipping away with a jackhammer, he fashions art that seems to jump out at you. @Vhils
---
Vhils – Portuguese artist who takes the raw essence of the Greek word 'graffito' (from which the word graffiti was derived), meaning to scratch the surface. He plasters walls and uses a jackhammer to do three-dimensional works. @vhils
---
Guoman Hotels in London
---
An exclusive collection of four and five-star hotels in London, nestled in some of the city's most stellar locations.
Great Cumberland Place, The Royal Horseguards Hotel, and The Tower Hotel.
Each has its own character, identity and style – from exquisite elegance at the Royal Horseguards, to contemporary comfort at Great Cumberland Place.
---