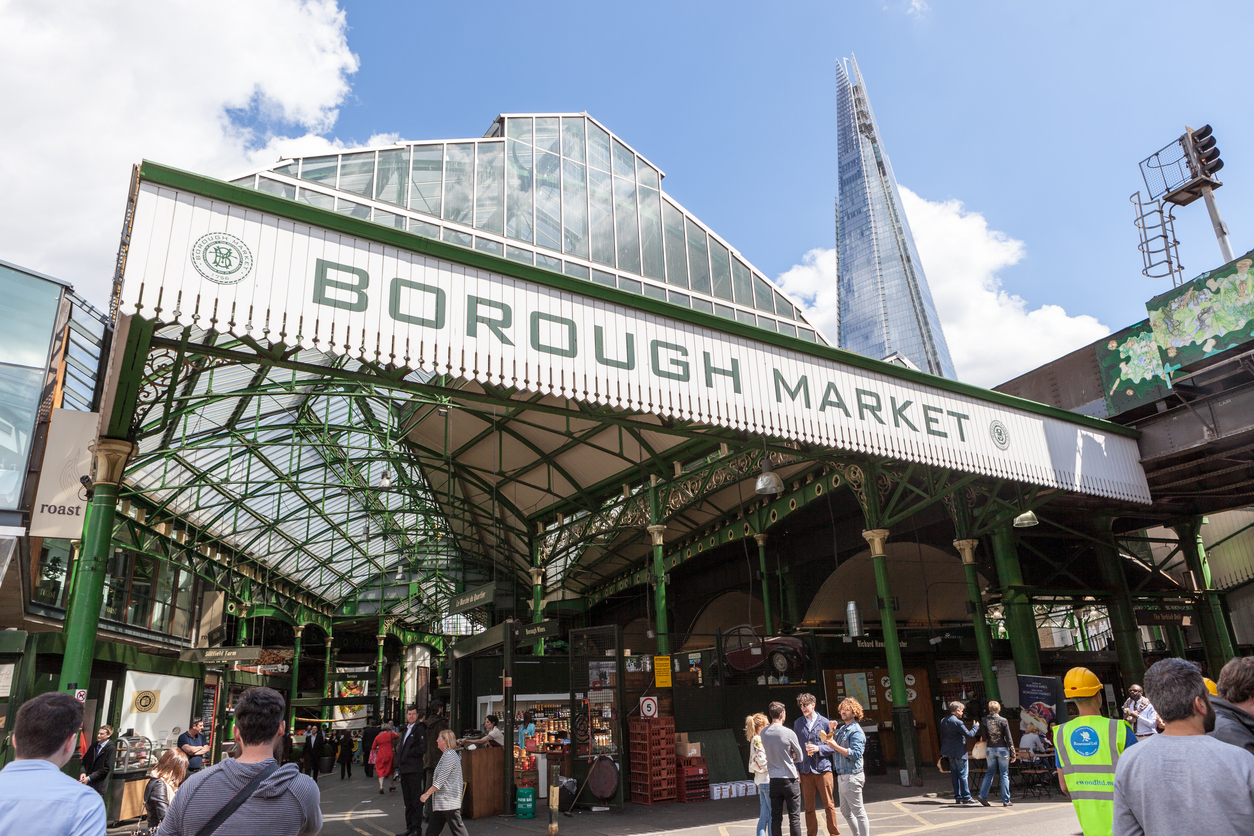 For a great shopping experience, London markets fit the bill in every way. Purveying goods from fragrant flowers to exotic foods from around the world, they are a vibrant and cosmopolitan retail destination. If you're not looking for blooms or something to eat, then you can search through the many sellers of antiques, clothes, curios or modern art. 
Spend a day strolling about Camden Market, Greenwhich Market, Borough Market, Portobello Road or Spitalfields and you'll soon see what we mean. There are bargains to be found to those willing to spend the time to find them.
Borough Market
There are over 100 stalls offering up wonderfully exotic cuisine in Borough Market. Fresh meat, fish, vegetables, cheeses, coffees, ciders, patisseries and cakes from producers all the around the UK can all be found there, as well as specialists in food imported from all 4 corners of the world.
A smaller Borough Market is in operation 6 days a week, from Monday through Saturday, while the full market opens between Wednesday and Saturday. Each Monday and Tuesday, visitors to the market can find traders in fruit, vegetables and lots of hot food.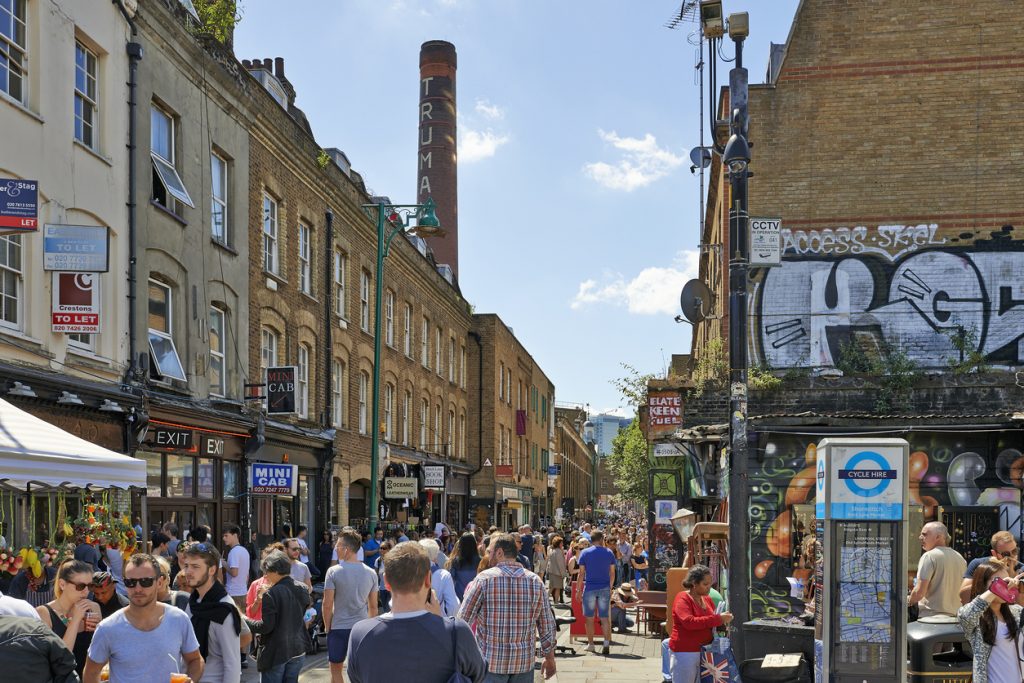 Brick Lane Market
For those in search of antiques, clothes and bargains amongst bric-a-brac, then Brick Lane Market is the destination of choice. This large flea market set in the heart of the East End is always a well attended shopping location.
Since the year 2000, Brick Lane has witnessed a number of different markets open under the banner of "The Truman Markets". They include The Boiler House Food Hall, The Backyard Market, The Sunday UpMarket, the Vintage Market and the Tea Rooms. Selling everything from handmade clothes to jewellery, arts and crafts to mouthwatering 'street food', it is a place we would recommend visiting.
Markets operate from the Old Truman Brewery, located on Brick Lane during the hours of 11am and 6pm Saturdays and 10am and 5pm on a Sunday. The only two markets not open on a Saturday is the aforementioned Sunday UpMarket (for obvious reasons) and the Vintage Market, which only runs on a Thursday and a Friday.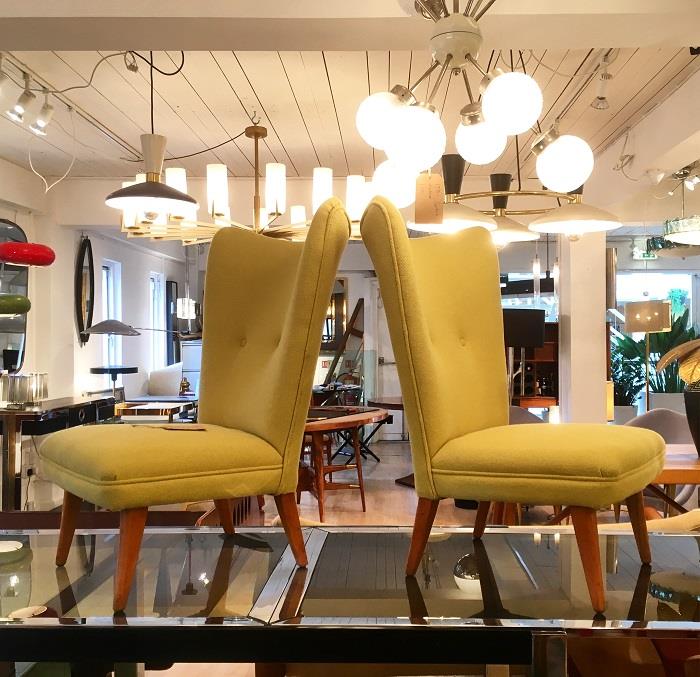 Alfie's Antique Market
There is no better place to find interesting and unusual antiques than the lively and bustling Alfie's Antique Market. This market offers a mixture of fun and style and is a touch more lively than a standard antiques market. It showcases the wares of 75 specialist antique dealers, spread over 5 different floors and right at the top sits the aptly named 'Roof Top Kitchen'. It allows you sample tasty food whilst enjoying a wonderful rooftop view of London.
This unique market opens Tuesday through Saturday between 10am and 6pm.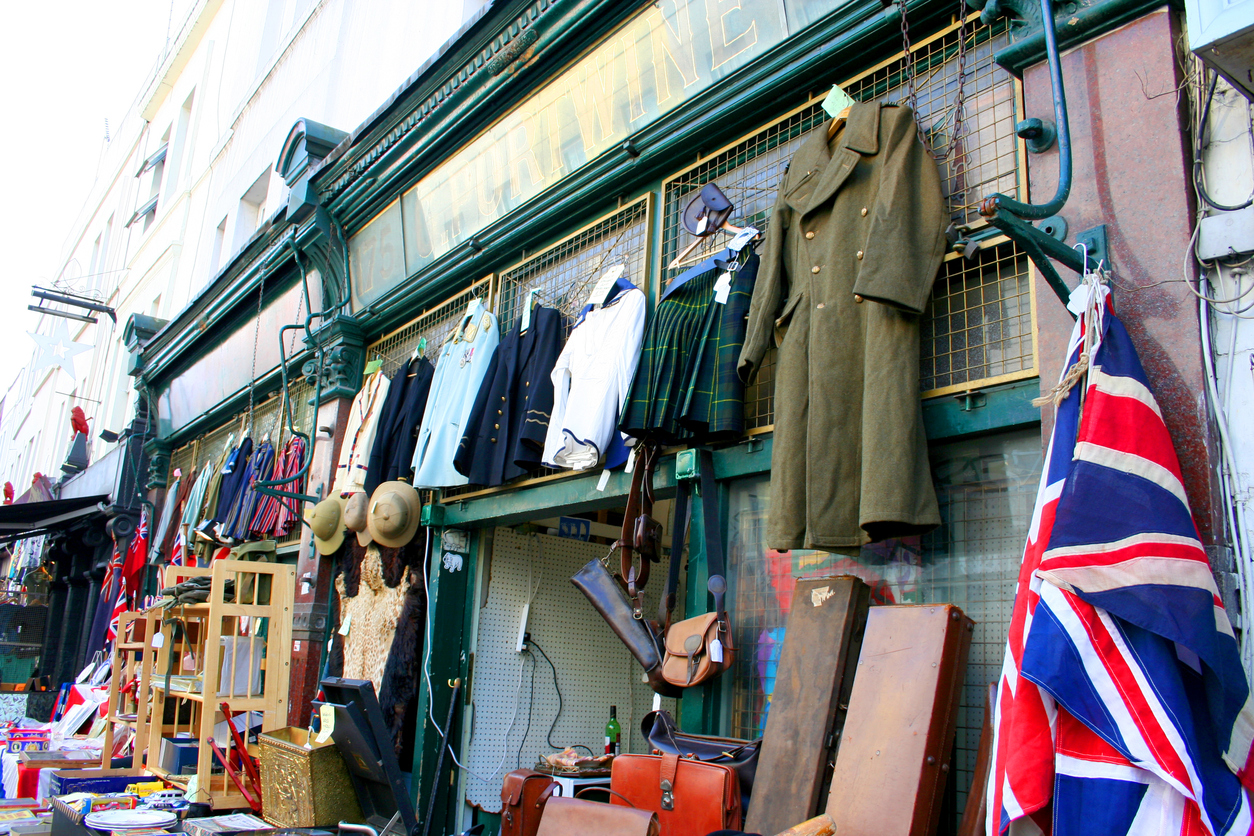 Notting Hill & Portobello Road Market
There has been a market operating out of Portobello Road since the beginning of the 19th century and has since gone on to become synonymous with antiques. That's not all you'll find there however, as there are various stalls providing a wide variety of clothes, ceramics, posters, fruit, bread and music. 
This market can be easily accessed from Ladbroke Grove, Westbourne Park and Notting Hill Gate underground stations, with a bus service operating from Notting Hill Gate and Ladbroke Grove. The full market runs on a Friday and Saturday each week, with a smaller one operating between Monday and Thursday. An enjoyable day for friends and family alike.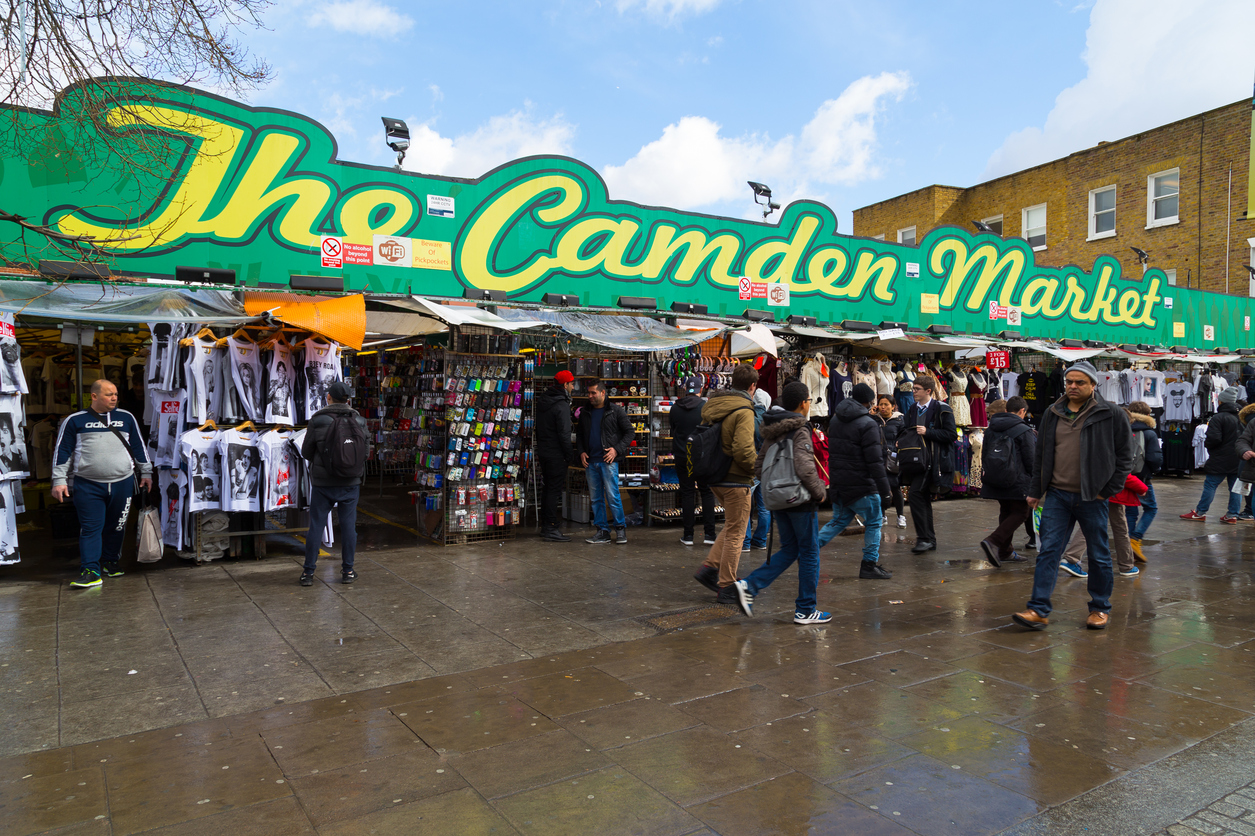 Camden Lock Market
For one of the most vibrant and thriving markets in London, it is hard to see past Camden Lock, based in Camden Town. Featuring stalls selling artwork, music, vintage clothing and handmade jewellery, there is a wide variety of products on offer. Retail therapy can build up quite an appetite, which can be satisfied at one of the many stalls offering a wide array of traditional and foreign cuisine.
Operating on a site formerly as a timber yard by shipbuilders, T.E.DIngwalls, Camden Lock Market began in the 1970s as a place to buy arts and crafts. It sadly met its demise, but was resurrected in the 1980s, with a robust steel and glass canopy being added to the site in 2003.
This market is open every single day of the year, apart from Christmas Day.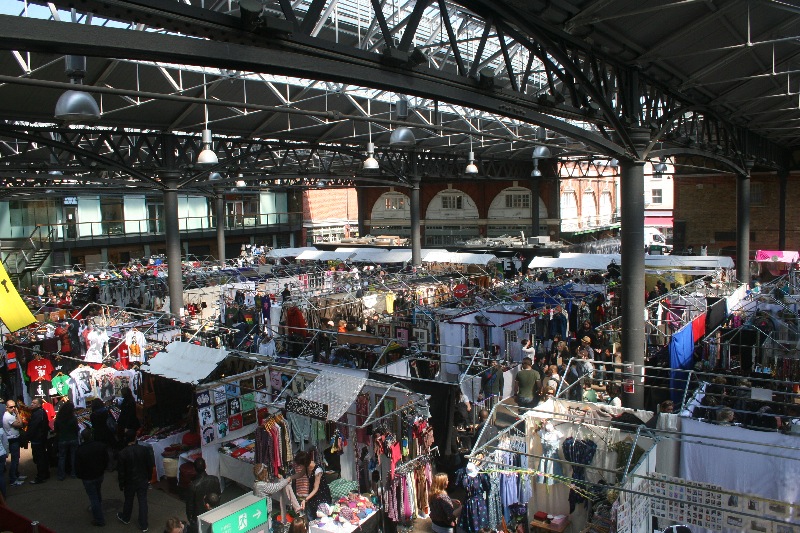 Old Spitalfields Market
Built way back in 1876, Old Spitalfields Market is one of the best, surviving Victorian market halls in the capital. Today, visitors to this wonderful market will find food, antiques and fashion from some London's up and coming design talents. You'll also encounter bohemian, African and vintage designs amongst the many boutiques and stalls that also include a number of hand-crafted toy producers.
You'll be well catered for should you rouse an appetite during your visit, as the area boasts a nice blend of chain restaurants and fresh food stalls. This market is the ideal destination for both 'foodies' and families, as it provides extremely high quality cuisine that won't break the bank. From Deli-style food to artisan produce and organic fare, there's something to suit every taste.
Greenwich Market
Brimming with very distinctive fare from the world of arts and crafts, Greenwich Market is famous for its small cottage industries and designer makers that can't be found anywhere else. All of the goodies on offer can be enjoyed in the vibrant and rarified atmosphere this market provides. It is not uncommon to hear classical music echoing around the area from the frequent skillful student buskers the area attracts from nearby Trinity College of Music.
Build up an appetite while you wander around the 120 antique and craft stalls and you'll have the continental food court to satisfy your hunger. Yum yum!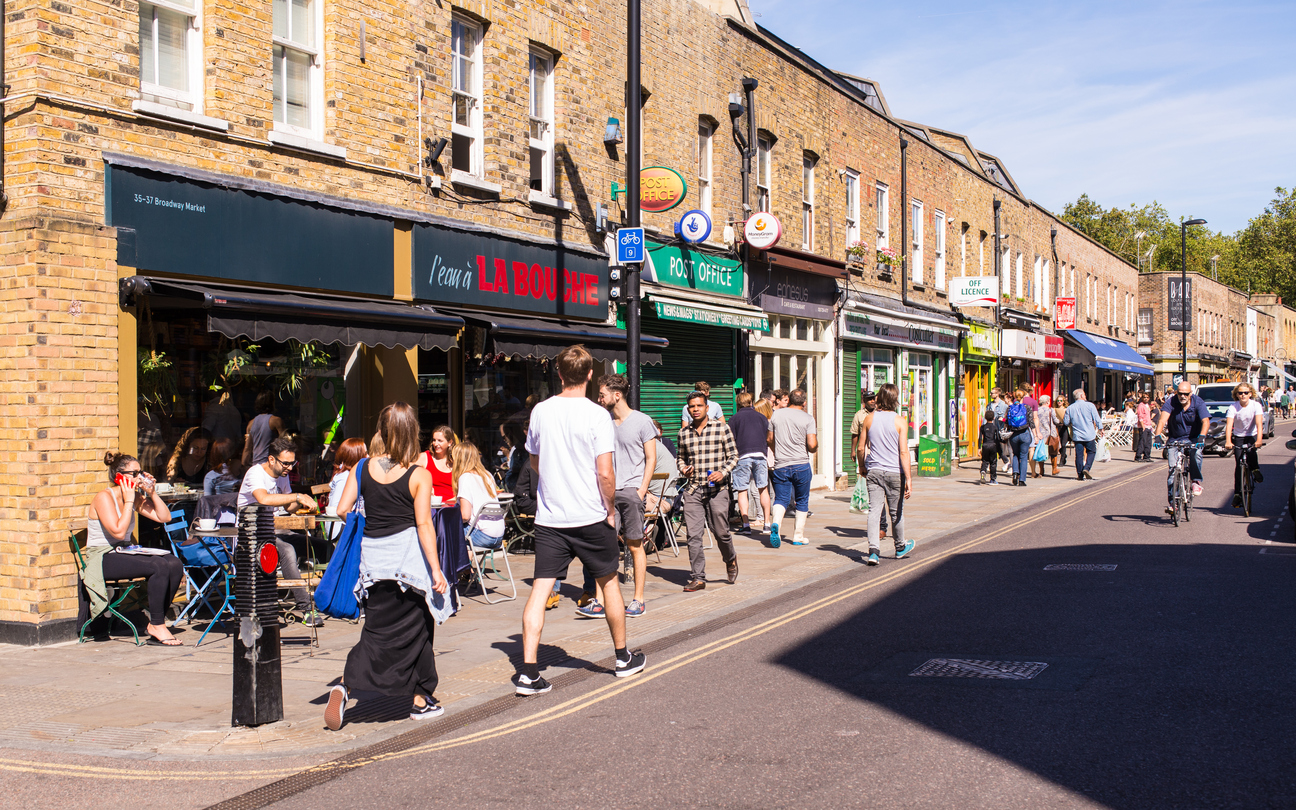 Broadway Market
Broadway Market is set right in the heart of the local community and is one of the oldest recorded markets in London. Its popular farmer's market is always an interesting place to visit and it stocks a hugely varied range of produce from local farmers, craftspeople and artists.
Packed with galleries and shops purveying ceramics and local art, this market provides a shop window for many local artisans. If you're looking for a 'not on the high street' kind of gift for someone you care about, then this is place to come. The prices aren't bad either.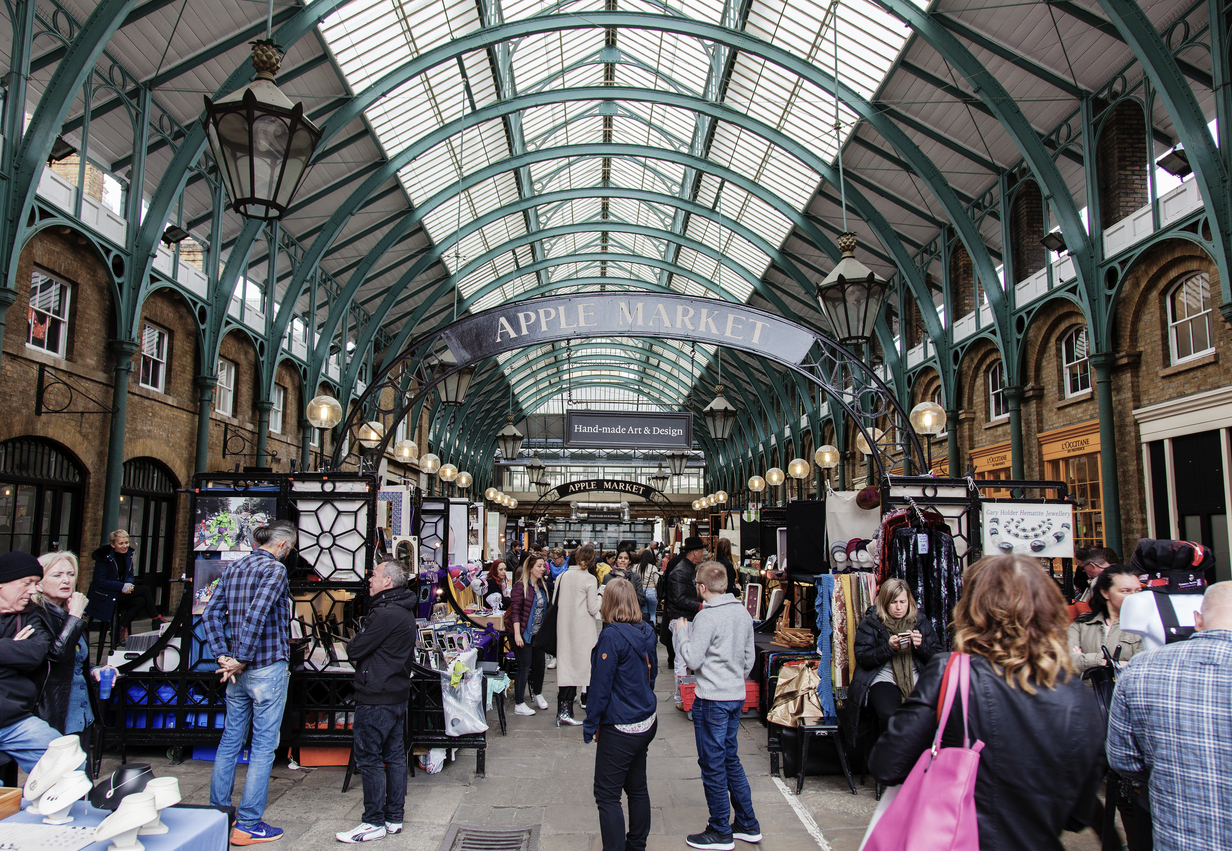 Covent Garden Apple Market
Located in the Northern part of the Marketing Building, the Apple Market is a great pace to go for British made produce, including leather goods, crafts and jewellery. As many items are unique this market, you'll find new items appearing every day.
Open each and every day, the 'East Colonnade' market offers hand-knitted clothes, jewellery, handbags, handmade soap, sweets, artwork and even a magician's stall. Old or young, there is something of interest for everyone.
The Jubilee market operates in the South Piazza area and the produce you'll find there is always changing. Between Tuesday and Friday, there's a general market offering household goods and clothes and at the weekend, it changes to arts and crafts.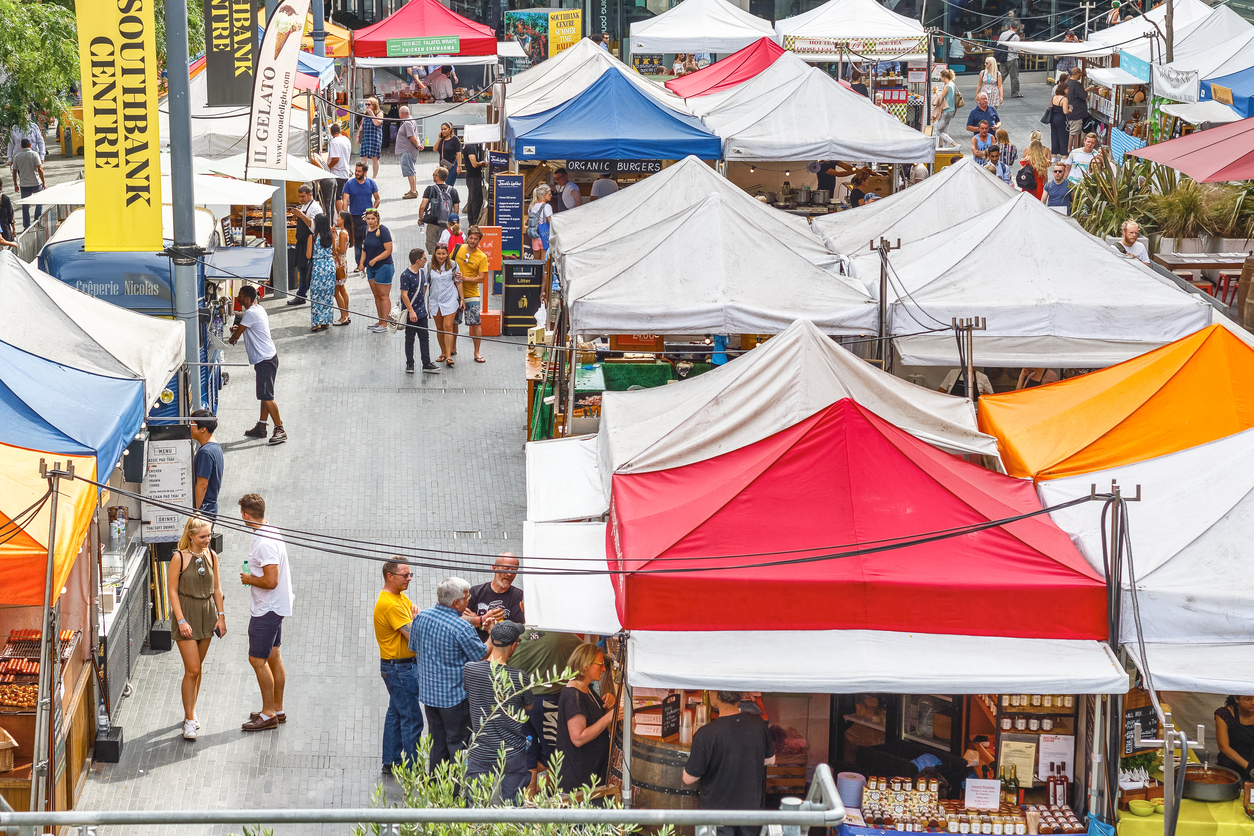 Southbank Centre Market
Visit the Southbank Centre Market between Friday and Sunday each week and you'll find a dazzling array of fresh food and drink from over 40 different local independent traders. Trading in spices, confectionary and meats, all of which can be taken home or enjoyed there and then.
It's a venue of gastronomic delights!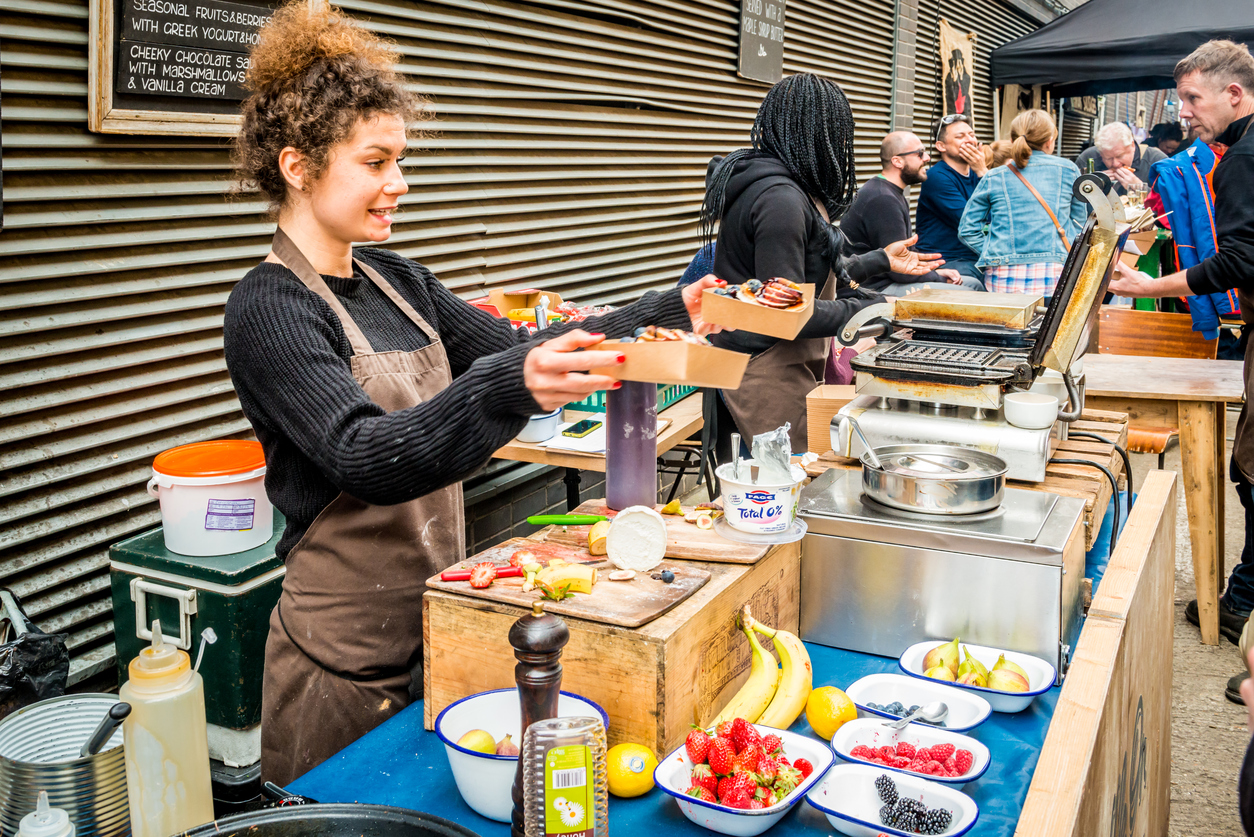 Maltby Street Market
Offering fresh bread, cakes, cheeses and meats, the Maltby Street Market is a popular and bustling place to shop. Famous local names like Monty's Deli and St John's Bakery offer up a wonderful array of sandwiches, freshly made doughnuts and other amazing baked goods. If you'd like something a little stronger to warm your cockles, you can visit the Kernel Brewery, which is open while the market is on during 9am to 4pm on Saturdays and 11am to 4pm on Sundays.
Columbia Road Flowers
Situated in the East End of London, near the markets of Brick Lane and Spitalfields, you'll find Columbia Road Flower Market. This lovely market is simply bursting with colour and has the most wonderful friendly atmosphere. 
Columbia Road itself has a dazzling variety of independent cake shops, art galleries, vintage clothes stores, antique shops and delicatessens. Once you have finished shopping, there is a great choice of pubs, restaurants and cafes to satisfy your hunger.
This market is open every Sunday between 8am and 3pm.
---
Guoman Hotels in London
An exclusive collection of four and five-star hotels in London, nestled in some of the city's most stellar locations.
Great Cumberland Place, The Royal Horseguards Hotel, and The Tower Hotel.
Each has its own character, identity and style – from exquisite elegance at the Royal Horseguards, to contemporary comfort at Great Cumberland Place.
---