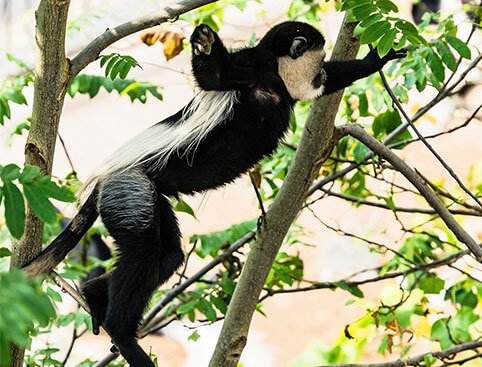 Discover the Magic of Wildlife at ZSL London Zoo!
---
Located in the heart of London, ZSL London Zoo is one of the oldest scientific zoos in the world, offering a unique opportunity to get up close and personal with some of the world's most amazing animals.
---
Here's everything you need to know about ZSL London Zoo.
---
History and Significance
---
Founded in 1828, ZSL London Zoo was established as a scientific zoo to promote wildlife conservation and increase the public's understanding of the natural world.
---
Today, the zoo continues to fulfil this mission, showcasing a wide variety of animals and educating visitors about the importance of conservation.
---
Exhibits and Attractions
---
ZSL London Zoo offers a wide range of exhibits and attractions, including:
---
Animals: See some of the world's most amazing animals, including lions, tigers, gorillas, and more.

Rainforest Life: Step into the world of the rainforest and see various tropical animals, including monkeys, birds, and reptiles.

Penguin Beach: Watch as penguins swim and play in their dedicated habitat, complete with a beach area.

Zoo Nights: During the summer, the zoo stays open late for Zoo Nights, offering a unique opportunity to see the animals at night and enjoy live music, food and drinks.
---
Rides and Tickets
---
Visitors to ZSL London Zoo can purchase tickets online by clicking the bottom of this page to check availability.
---
Admission tickets include access to all exhibits and attractions within the zoo.
---
Accessibility
---
ZSL London Zoo is accessible to all visitors, with ramps and elevators available for those with mobility issues.
---
Some zoo areas may have limited accessibility, but alternative routes are available.
---
Tips for Your Visit
---
Plan your visit for early in the day to avoid the crowds.

Wear comfortable shoes as there is a lot of walking involved.

Allow at least three hours to explore the exhibits and attractions fully.

Consider purchasing a map or guidebook for a more in-depth experience.
---
Conclusion
---
ZSL London Zoo is a must-visit destination for animal lovers and nature enthusiasts visiting London.
---
Its unique blend of history and science offers a one-of-a-kind opportunity to see and learn about some of the world's most amazing animals.
---
So book your tickets today and get ready to discover the magic of wildlife at ZSL London Zoo!
---
---
(Official Ticket Partner – Save up to 20%
– No hidden charges)
---