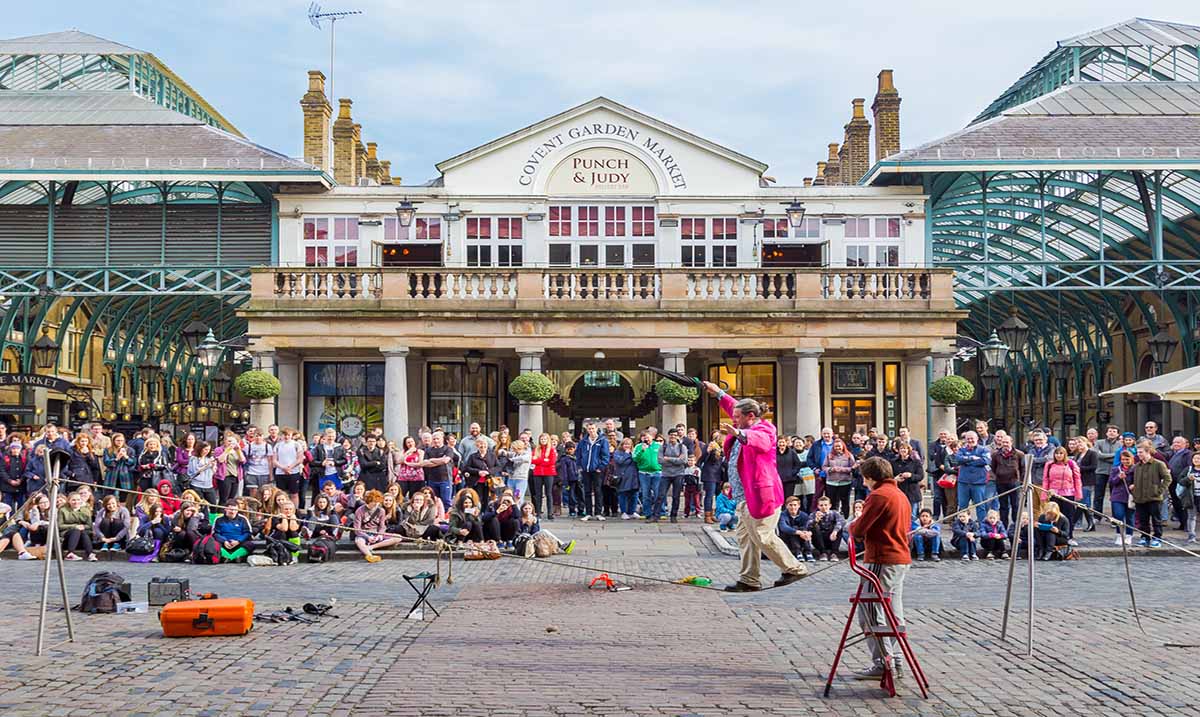 If you're wanting the grandeur of the flagship department stores and top names in retail, then you should head over to Regent St and the adjoining Oxford Street. However, if you are looking for a genuinely unique experience in the rarified air of trendy boutiques and the feel of old London Town, then there can be no place better than Covent Garden. 
Packed with interesting antique and bric a brac shops, stalls and street vendors selling cuisine from across the globe, there really is no other place quite like it.
Street Performers
On the main cobbled piazza area, you will regularly find street artists, performers and buskers plying their trade, which is reason enough in itself to visit the area. If you are feeling brave and are happy to investigate the narrow backstreets, you will find areas that look like they've been lifted straight out of a Harry Potter book.
Shops, theatres and covered markets are amongst the many attractions that draw millions of visitors to the area each year. The locale has many famous streets like Monmouth Street and Seven Dials, the venue for flower markets and specialist art and antique shops. The place is quite simply an Aladdin's cave of mystery and intrigue.
Finding a Place to Stay
As with most parts of central London, it is well furnished for hotels, with premier, mid-range and economy hotel accommodation available. You could try staying at the Radisson Mountbatten with its stunning luxury interior or the quaintly decorated and aptly named Covent Garden Hotel. The Radisson chain offer packages that include theatre tickets, which is a popular package, as Covent Garden is deep in Theatre Land!
 Whichever hotel you choose, you're well placed to enjoy everything Covent Garden has to offer.
Of course, these hotels come at a premium and should you choose to sample the opulence they provide, you will soon see what true luxury means. If you're operating on a budget, you'll find economy operators like Holiday Inn and Travelodge offering perfectly adequate rooms for around a third of the cost of a 4 star hotel.
Stay in Covent Garden and you're unlikely to forget your time there. We think it is something that everyone should do at some point in their lives and with a little planning, it needn't cost you a pretty penny.
You'll never be short of choice when staying in Soho, whether you're looking for 5 star luxury at the Hilton on Oxford Street or 'cheap and cheerful' from the Cheshire Hotel, there's something to suit all needs.
---
More about Covent Garden
---
Find out more about Covent Garden at http://www.coventgarden.com
---
Our favourite Covent Garden Hotels
---
---