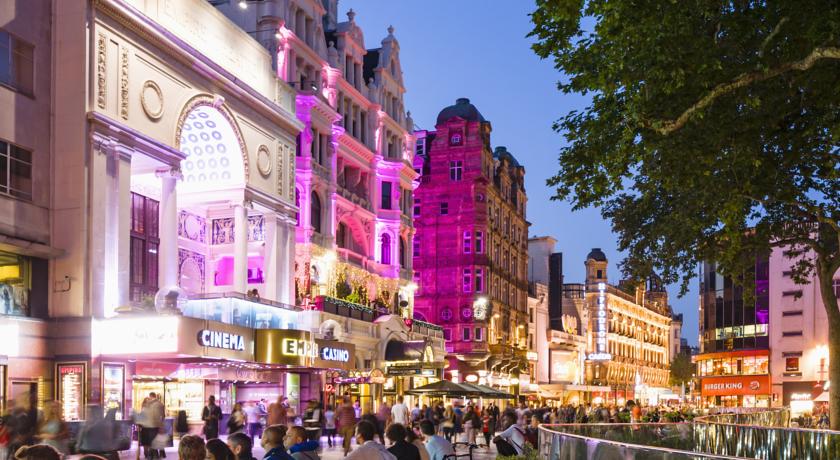 The area of London known as Soho conjures images of cabaret, sex shops and gay bars and is one of the most colourful and interesting areas of the capital. It is an area of outstanding entertainment and is home to world famous venues like Queen's Theatre, Shaftesbury Avenue and Ronnie Scott's Jazz Club.
The area does have a darker side, but it is far outweighed by what offers to the worlds of fashion, cuisine and music. You'll find vintage record stores rubbing shoulders with pavement cafes, indoor golf venues and private members' clubs. It is the very definition of diverse.
Culinary Delights
In terms of eateries, you'll not find more per square mile in London than in Soho. The list of coffee shops, restaurants and bars is pretty endless and includes names like Dehesa, Barrafina, Arbutus and many, many more.
Visit the West End in the early evening on a Friday or a Saturday and you might feel a little overwhelmed with the sheer number of people out having fun and sporadic raucous behaviour from a hen party or two, but that's not across the entire area. There are other parts of Soho that have some of the hippest nightlife available in the capital, so if you're not in a full on party mood, there are still places to go and relax.
Almost 24 Hour Activity
New York might be the city that never sleeps, but in Soho, London, there is a comparable amount of round-the-clock activity, which could see you witness a Jamaican steel band running through a song or two in Leicester Square at 4am. It is London's most interesting and exciting neighbourhood.
Accommodation
Stay at the Soho Hotel and you can be forgiven for thinking that the hustle and bustle of the area has suddenly quietened once inside. It is tucked away right in the heart of the most vibrant part of Soho and you would never know. Created by the inimitable Kit Kemp in her own unique twist, it is one of several in the area that have her influence across its walls.
If contemporary art isn't your thing and you'd prefer something a little more traditional, Hazlitt's offers beautiful, but relatively affordable Georgian style. Stay there and you'd feel you'd been transported back to the 1700s – that is if it weren't for the free Wifi! Like the sound of four poster beds and real fire places? Then Hazlitt's is for you!
You'll never be short of choice when staying in Soho, whether you're looking for 5 star luxury at the Hilton on Oxford Street or 'cheap and cheerful' from the Cheshire Hotel, there's something to suit all needs.
---
Guoman Hotels in London
An exclusive collection of four and five-star hotels in London, nestled in some of the city's most stellar locations.
Great Cumberland Place, The Royal Horseguards Hotel, and The Tower Hotel.
Each has its own character, identity and style – from exquisite elegance at the Royal Horseguards, to contemporary comfort at Great Cumberland Place.
---