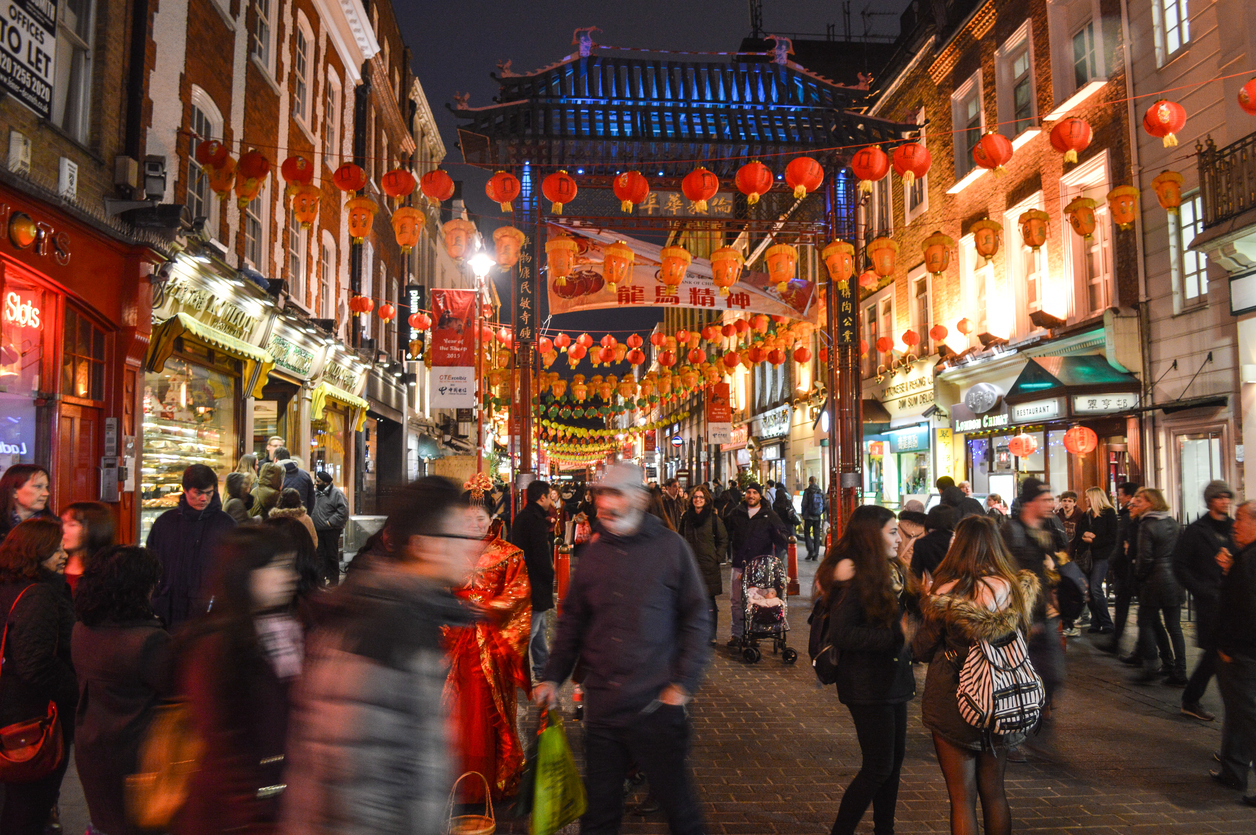 Area Guide for Chinatown
---
Chinatown is a London neighbourhood that's simply full of restaurants with authentic Chinese charm, as well as unique shops and traders.
---
Visit the area to partake in special events to sample the unmistakable Chinese culture deep in the heart of England's capital city.
---
Sample the exotic tastes and aromas of the Far East by visiting Chinatown in London.
---
This vibrant locale is home to a vast community from East Asia, who regularly congregate for special activities and events over the year.
---
This culminates in Chinatown's biggest celebration of the year – Chinese New Year.
---
London's Rich East Asian History
---
Formerly home to Malteses and Huguenot immigrants, Chinatown, as it exists today, came into being in the 1950s when a group of Chinese eateries opened their doors in the same local area.
---
Subsequently, services and businesses began gravitating to the site, and over the next two decades, it became a commercial and cultural Chinese hub for London.
---
Chinatown wasn't always in its current location, as the original place to be called Chinatown was in Limehouse, in the East End of London.
---
Instead, it came about due to the influx of Chinese workers into London's docks in the late 1800s, with an early Chinese community being created there.
---
This only persisted until a decline in the shipping industry, combined with the widespread destruction of the area in the Blitz in World War 2, causing workers to leave the site in search of employment during the mid-twentieth century.
---
Whereabouts in London is Chinatown?
---
Geographically speaking, Chinatown sits right in the middle, north of Leicester Square, West of Charing Cross Road, East of Rupert Street and South of Shaftesbury Avenue.
---
Gerrard Street forms the central part of Chinatown, running right through the area. Chinatown also forms part of the famous West End of London.
---
Directions to Chinatown
---
Chinatown is within easy reach of several of London's best attractions, such as Soho and Theatreland in Leicester Square.
---
In addition, being located so centrally makes it easier to reach using public transport.
---
The closest London Underground stations to the area of Chinatown are Piccadilly Circus and Leicester Square, which are connected to the Bakerloo, Northern and Piccadilly lines.
---
Several bus routes connect Chinatown to other parts of London, and cabs are freely available nearby.
---
Should you be travelling to the area to celebrate Chinese New Year, it is recommended that you check essential information regarding travel to the site for the most significant events.
---
Travelling around Chinatown
---
It's pretty simple to travel around Chinatown on foot, as it's not a very large area, and some of the streets don't even allow cars, so it's friendly and safe too!
---
Bus routes surround the area, but none run through Chinatown, and car access is restricted to specific streets.
---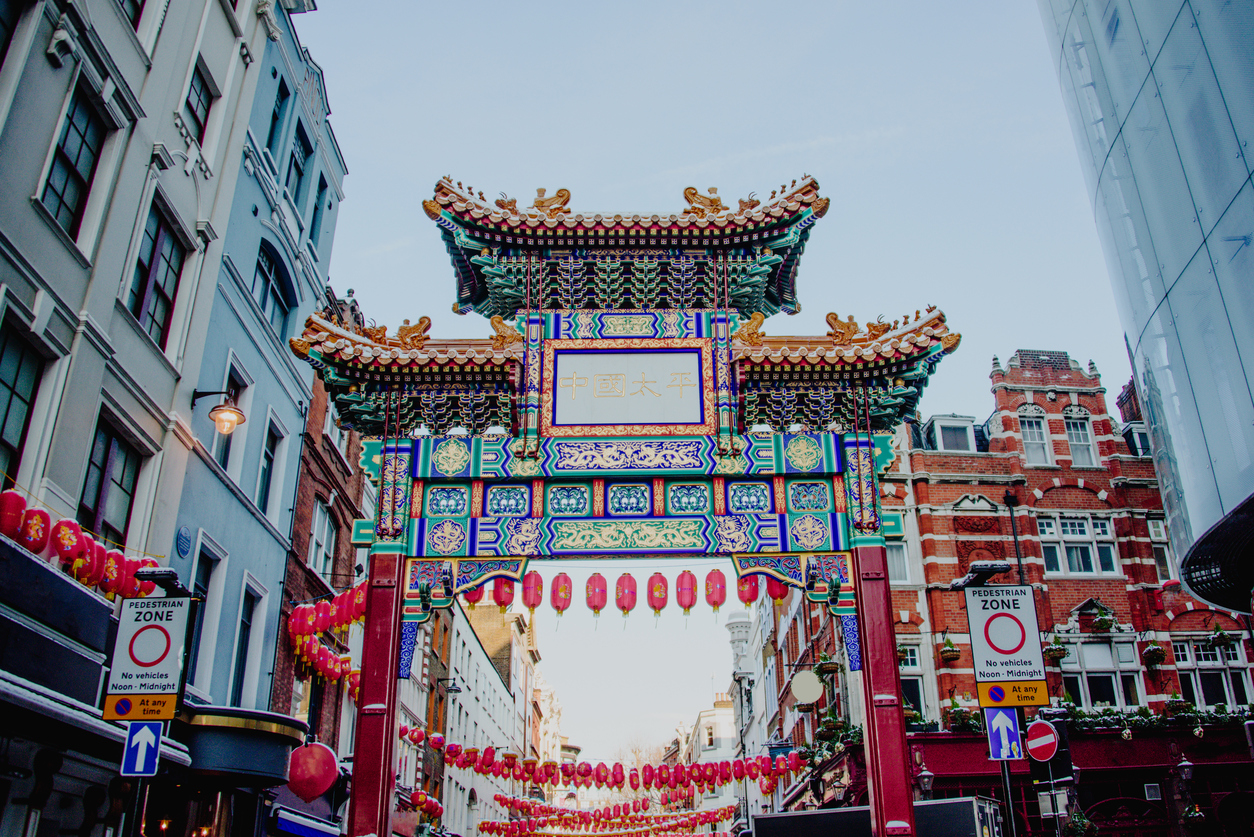 ---
Things to see in Chinatown
---
Chinatown has some of the most spectacularly decorated streets and buildings, covered in brightly coloured Chinese symbols, such as lanterns and golden dragons.
---
However, don't worry about finding your way around, as all signs are written in Chinese and English.
---
Whilst there, you'll also see modern sculptures, Chinese gates and stone lions and be sure to check out Wardour Street's brand new fourth gate.
---
The gate was finished in 2016 and created in keeping with the style of the Qing Dynasty. It is the single giant Chinese gate in the UK.
---
All these elaborate decorations offer the perfect backdrop for ideal photo opportunities and provide a dazzling taste of Chinese religion and culture, especially during celebrations.
---
What Events are Happening in Chinatown?
---
Each year, between the middle of January and February (the exact dates vary, in line with the Chinese calendar), Chinatown is the location of London's dazzling and colourful celebrations for Chinese New Year.
---
In 2019, Chinese New Year started on the 5th of February, kicking off a period of celebration and colour that begins around or on that date.
---
Visitors to the event invariably witness a fantastic parade with lion dances and floats, as well as live entertainment in Trafalgar Square and performances across Chinatown.
---
There are also many pop-up food stalls for when you get peckish and craft stalls, ideal for picking up a souvenir or two.
---
Please look at our tips on getting involved in London's Chinese New Year celebrations.
---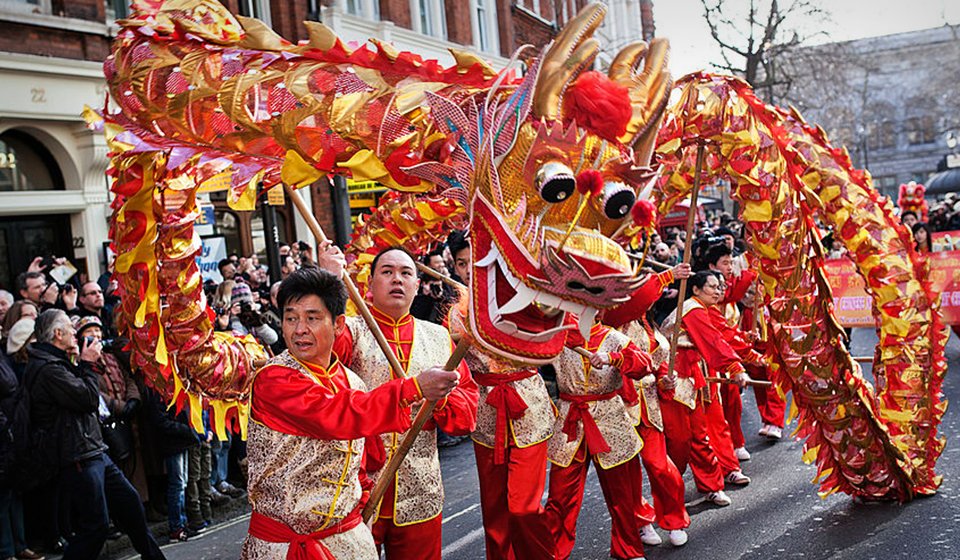 ---
There's much more in terms of events across the rest of the year in Chinatown, including several highlights:
---
The amazing technicolour International Lion Dance and Dragon Dance Festival parade through Chinatown on New Year's Day.


---

Witness talented singers challenge each other to reach Chinatown's August Water Cube Cup Singing Contest.


---

Take in some incredible performances at the mid-Autumn, week-long Moon Fest whilst eating some of their famous Mooncakes – all in the name of harvest celebration.


---

The 15th day of the celebrations for Chinese New Year sees the Lantern Festival, where beautifully created lanterns are illuminated in the area.


---

The Poon Choi Festival is a stunning tribute to the Chinese elders held during the Summer. Whilst you're there, enjoy food served up in a massive basin!




---

At London Docklands, you can see the unmissable Dragon Boat Festival, where you can feast on traditional Chinese fare – Zongzi (Lotus leaves wrapped around sticky rice dumplings)
---
Where are the Best Places to Shop in Chinatown?
---
Visit Chinatown, and you'll find numerous bakeries, Chinese eateries, and vendors packed full of Chinese-themed gifts and trinkets.
---
Look around the SeeWoo and New Loon Moon supermarkets for exotic spices, vegetables and fruits that you won't find at traditional English food retailers.
---
If luxurious cakes and succulent buns are your things, head over to the Kowloon Bakery and the Golden Gate Cake Shop – perfect for indulging, whatever the time of day.
---
Or why not go shopping for lanterns, ornaments such as maneki-neko (known as beckoning cats) or Chinese clothing at the many shops in Chinatown?
---
Where are the Best Bars and Restaurants in Chinatown?
---
You'll be spoilt for choice in Chinatown for places to eat, with numerous Chinese restaurants serving traditional Chinese fare.
---
It's not all Chinese food, though, as you can find another Far Eastern cuisine from Korea, Taiwan, Japan, Malaysia and Vietnam.
---
There are even European-style restaurants for those with slightly less exotic tastes.
---
If you want an authentic taste of Chinatown, you should eat at one of London's premier Chinese restaurants.
---
There are so many to choose from (as you would expect) in Chinatown, with Cantonese, Szechuan, Dim Sum and Chinese buffet food on offer.
---
Some of the best eateries in Chinatown include:
---
Four Seasons – A restaurant renowned for its roast duck


---

Baozi Inn – For dumplings and other street food-style dishes


---

Golden Dragon – Known for offering some of London's best Dim Sum


---

Leong's Legend – Offering traditional Taiwanese fare


---

New Mayflower – The place to visit if you're into your seafood!


---

Olle – A unique restaurant featuring barbecued marinated meat dishes cooked on tabletop stoves


---

Bubblewrap – A popular destination for egg waffles from Hong Kong, each served with luxurious toppings


---

Rasa Sayang – Offering delicious cuisine from Singapore and Malaysia


---

Shuang – For those who love warming broths or hot pots. You even get to choose what ingredients go in!


---

Plum Valley – The place to go for modern Cantonese fare


---

Ichibuns – An exciting blend of American and Japanese cuisines, famed for its Wagyu Beef Burger


---

Imperial China – A perfect, spacious venue for large groups or families that serves delicious Chinese food


---

Royal Dragon – If singing Karaoke while you eat delicious Dim Sum sounds fun, this restaurant is perfect for you.
---
If you are a fan of cocktails, you should visit The Experimental Cocktail Club, a clandestine-style bar behind an ordinary-looking door located on Gerrard Street.
---
For even more creatively made drinks, head over to the evocatively named Opium Cocktail and Dim Sum Parlour.
---
Or visit the Light Lounge for a truly atmospheric experience.
---
You can enjoy a vibrant atmosphere on Macclesfield Street at De Hems, with a selection of Belgian and Dutch beers.
---
Then dance through the night at Ku Bar, a popular gay bar on the corner of Lisle Street.
---
Where are the best places to stay in Chinatown?
---
In Chinatown, there is a limited amount of accommodation, but there are numerous hotels just a few streets over in Soho, Covent Garden and Leicester Square.
---
Chinatown, located in the heart of London, is a vibrant and bustling neighbourhood that offers a unique cultural experience for visitors.
---
Its colourful street markets, delicious food, and lively atmosphere make it a must-visit destination for anyone visiting London.
---
Here's a guide to help you make the most of your time in Chinatown.
---
Explore the street markets: One of the best ways to experience Chinatown is to wander through its bustling street markets. Visitors can explore the many stalls selling everything from traditional Chinese crafts to delicious street food.


---

Enjoy the food: Chinatown is known for its fantastic food and is a must-visit destination for anyone looking for a delicious meal. Visitors can sample traditional Chinese dishes, including dim sum, Peking duck, and hot pot, at one of the many restaurants in the neighbourhood.


---

Visit the Chinatown Heritage Centre: This museum is dedicated to the history and culture of Chinatown and is a great place to learn about the neighbourhood's past and present. Visitors can see exhibits showcasing the lives of Chinese immigrants in London and learn about the area's history.


---

Take a Chinese cooking class: If you're interested in cooking, consider taking a Chinese cooking class while in Chinatown. Many local restaurants and cooking schools offer lessons where visitors can learn how to make traditional dishes and gain a deeper understanding of Chinese cuisine.


---

Visit the Chinese pagoda: The Chinese pagoda, located in Leicester Square, is a replica of a traditional Chinese temple and is a popular spot for visitors to take photos. It's a great place to get a sense of the neighbourhood's cultural heritage and learn about traditional Chinese architecture.


---

Explore the shops and boutiques: Chinatown is home to many unique shops and boutiques, selling everything from traditional Chinese clothing and jewellery to everyday fashion items. Visitors can find various things to take home as souvenirs, including standard tea sets, lanterns, and fans.


---
In conclusion, Chinatown is a must-visit destination for anyone visiting London.
---
With its vibrant atmosphere, delicious food, and rich cultural heritage, it's a perfect place to experience the city's best.
---
So, add it to your itinerary and enjoy all that Chinatown has to offer!
---
Guoman Hotels in London
---
An exclusive collection of four and five-star hotels in London, nestled in some of the city's most stellar locations.
---
Great Cumberland Place, The Royal Horseguards Hotel, and The Tower Hotel.
---
Each has its own character, identity and style – from exquisite elegance at the Royal Horseguards, to contemporary comfort at Great Cumberland Place.
---