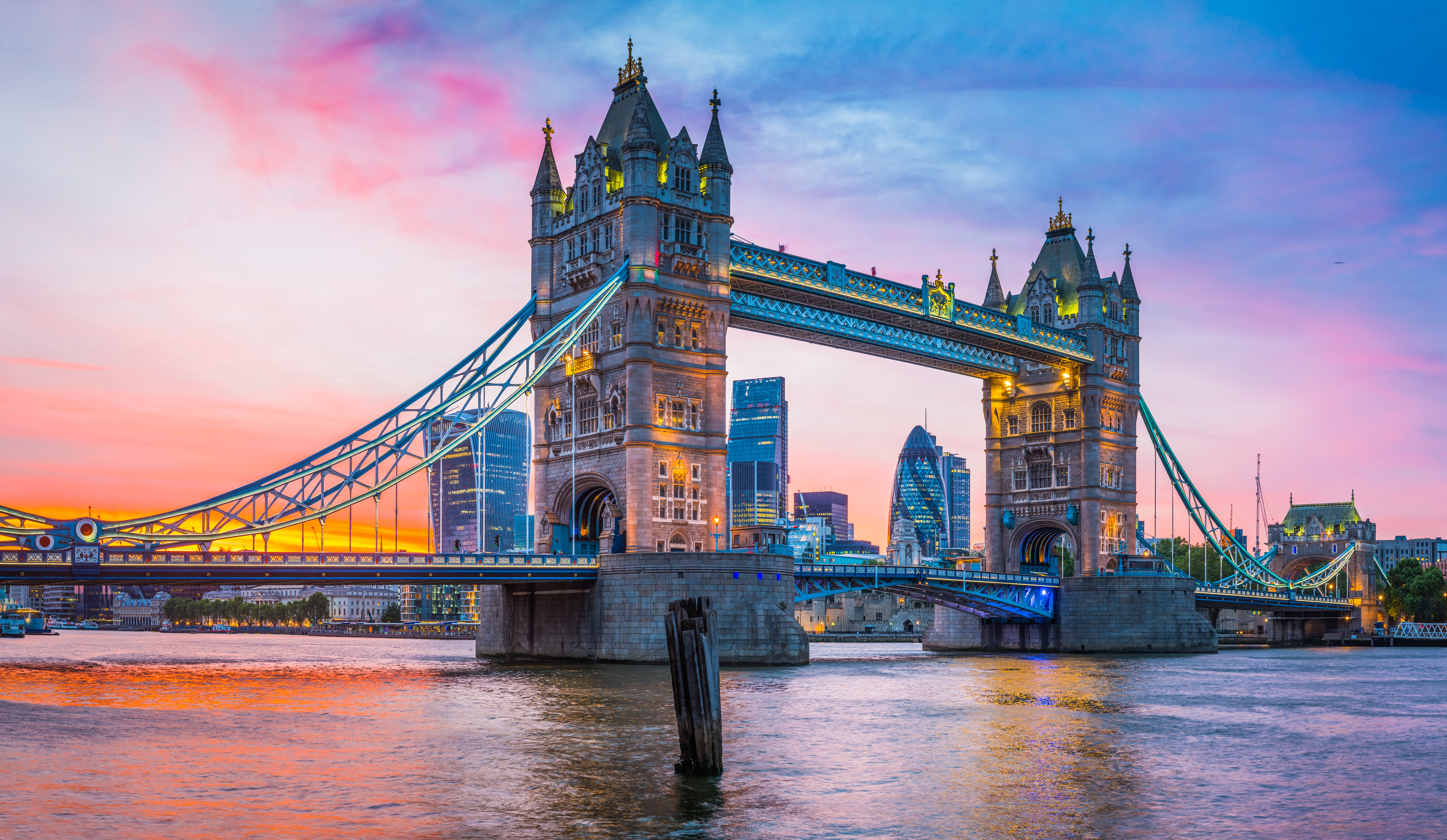 The Tower Hotel, London, sits proudly on the River Thames, overlooking Tower Bridge and in the midst of some of London's most iconic landmarks and famous locations, including the Tower of London, St Katherine's Docks, HMS Belfast, the Shard and more.See more images.
---
For an exciting, unforgettable tourist experience, London Bridge is the ideal location that offers an authentic sample of London.
---
In the shadow of Europe's highest building – The Shard – London Bridge provides some genuinely unique tourist experiences and sights next to the Thames, one of the world's most famous rivers.
---
This is one of London's most history-laden and iconic areas, as it's a site that has seen some of the Capital's most notable culinary, maritime and often gruesome events that have all contributed to making London the city it is today.
---
You'll find endless photo opportunities, high-quality bars and restaurants, shops and top-class attractions like the Tower of London and Tower Bridge.
---
There's so much to see, and it can all be enjoyed on foot.
---
How to Get to London Bridge
---
Finding London Bridge is a pretty simple affair, as you can get there by:
---
Taking one of the many Buses available in London




---

Enjoying an MBNA Thames Clipper river bus ride along the river




---

Jumping on a tube train via the Northern and Jubilee Underground Lines




---

Taking an overland rail journey to London Bridge from London St Pancras International (Eurostar), London Luton airports and London Gatwick


---

By bicycle, by using London's Cycle Hire Scheme (also known as Boris Bikes) if you're feeling fit and active
---
Should you visit London for more than just one day, purchasing a Visitor Oyster Card before your arrival is recommended.
---
Book ahead and your card will be delivered directly to your address before your journey to London.
---
It is one of the most simple and stress-free ways of travelling around whilst in London.
---
If you don't book a Visitor Oyster Card in advance, it is possible to buy a standard Oyster Card upon arrival at London's Underground, but it may cost a little more.
---
Each has its character, identity and style – from exquisite elegance at the Royal Horseguards to contemporary comfort at Great Cumberland Place.
---
Things to see and do at London Bridge
---
The Shard is Western Europe's tallest building, and its imposing form dominates the skyline over London Bridge.
---
If you want an incredible view of London Bridge and beyond, you should take the lift to The View from The Shard, located on levels 68 to 72.
---
After taking in the incredible bird's eye views of London, there's an array of top-class attractions in the vicinity of London Bridge Station.
---
There's a taste of the macabre to be had at the scary Old Operating Theatre, Museum and Herb Garret, where surgeons in the 1800s conducted surgical operations with no anaesthetic ouch!
---
The London Bridge Experience also offers a glance into London's gruesome past.
---
From there, it's just a short walk over the road to Borough Market, the oldest food market in the United Kingdom.
---
It's open between Thursday and Saturday each week and features over 100 vendors, offering a mixture of bread, vegetables, fish, meat, cheese and artisan cakes.
---
Adjacent to the market, you'll find Southwark Cathedral, the oldest example of a Gothic Church in England's capital.
---
Only tourists visiting London Bridge can genuinely say they've experienced everything the area offers without walking along the Thames.
---
There are many things to do either above or on the Thames close to London Bridge.
---
You can visit Potters Fields Park or The Scoop next to City Hall for a riverside rest or sample some retail therapy at the excellent Hay's Galleria Shopping Centre.
---
There are often free special events in the area, so keep an eye out for them!
---
Or you could jump on board the HMS Belfast, the last surviving example of a Second World War gunship in Europe.
---
Please pace yourself, as there are a total of 9 decks in all to sample.
---
A visit here will bring the operational maritime experience to life, with radar mock-ups in the Operations Room and real-life Gun Turret Displays, where you can truly feel the heat of war!
---
Moving a little further down the Thames, the Tower Bridge Exhibition describes how the famed bridge operates and allows visitors to walk along the glass walkway to witness spectacular views of London.
---
Fashion lovers will enjoy the exciting exhibitions on Bermondsey Street at the Fashion and Textile Museum.
---
Should you be journeying to London with your children, you must visit the fantastic Unicorn Theatre, the UK's leading young people's theatre, offering a diverse and intriguing year-round work program for kids between 6 months and 18 years of age.
---
For entertainment as the evening approaches, the Bridge Theatre is the perfect venue to sample new and innovative theatre.
---
This 900-seat venue is a relatively new addition to the area and sits beside the river.
---
The plays shown there are known for their top-class production and original scripts.
---
Restaurants and Bars in the London Bridge Area
---
London Bridge was formerly known affectionately as 'London's Larder' as a result of all the exotic, ethnic cuisine produced that used to arrive in London by ship from across the world.
---
This food was stored in the warehouses next to the river, and today, it is a place to find a wide array of foods to cater for every taste and budget.
---
Whilst wandering through Borough Market, you must sample the tasty food and beverages. Travel to fashionable Bermondsey on Saturdays and discover Druid Street and Maltby Street markets.
---
A wide range of local culinary artisans creates the delicious food on offer.
---
Many new restaurants have recently opened their doors in the Tower Bridge area, including Baluchi, The Coal Shed, The Ivy Brasserie and Tom Simmons. Close by, top chef Tom Sellers is constantly improving his delicious menu of season-defining dishes – something that has earnt Restaurant Story its Michelin Stars.
---
For a mixture of dazzling views of London and top cuisine, visitors to London Bridge should head to Ting and Hutong, grilled food at Oblix or Aqua Shard for contemporary British fare.
---
For equally spectacular panoramic views closer to the ground, head to European-styled restaurants Cantina del Ponte, Le Pont de la Tour, Cote Brasserie and the many vendors next to the river in More London. Bermondsey Street is the location for a wide range of independent food vendors, including Londrino, Texas Joe's, Champor Champor, Pizarro and Tanner & Co.
---
For an exclusive alfresco London Bridge pub and bar experience, visitors should travel to HMS Belfast's Upper Deck Bar. GŎNG offers beautiful views and The George Inn – a favourite of Charles Dickens. Try the Quarter Bar, TwoRuba, London Grind or Nine Lives for top cocktails.
---
London Bridge is one of the most famous landmarks in the world and a must-visit destination for anyone visiting London.
---
With its rich history, stunning architecture, and vibrant atmosphere, there is no shortage of things to see and do in this bustling part of the city.
---
Here's a guide to help you make the most of your time at London Bridge.
---
Visit The Tower Bridge: This iconic bridge is one of the most recognizable symbols of London and offers breathtaking views of the city. Visitors can tour the bridge, including the high-level walkways, to see the city from a unique perspective.


---

Explore the Tower of London: This historic fortress has served as a palace, prison, and royal treasury throughout its long history. Visitors can see the Crown Jewels, learn about the history of the tower and the many famous prisoners held there, and take a tour with one of the Yeoman Warders, also known as Beefeaters.


---

Walk along the South Bank: This vibrant riverside area is a hub of activity, with street performers, food stalls, and fantastic city views. Visitors can stroll along the river, stopping at one of the many cafes or bars for a drink or a bite.


---

Visit the Shakespeare's Globe: This reconstructed Elizabethan playhouse is a must-visit for anyone interested in Shakespeare or theatre history. Visitors can tour the theatre, see a performance, and learn about Shakespeare's history and plays.


---

Explore Borough Market: This bustling market is one of London's largest and oldest food markets, offering a wide variety of food and drink options. Visitors can sample local specialities, including cheeses, meats, and baked goods, and enjoy the market's lively atmosphere.


---

Enjoy a river cruise: London Bridge is the perfect starting point for a river cruise along the Thames. Visitors can tour the city's famous landmarks, including Tower Bridge, the Houses of Parliament, and the London Eye.


---
In conclusion, London Bridge is a must-visit destination for anyone visiting London.
---
With its rich history, stunning architecture, and vibrant atmosphere, it's a perfect place to experience the city's best.
---
So, make sure to add it to your itinerary and explore all London Bridge offers!
---
Guoman Hotels in London
---
An exclusive collection of four and five-star hotels in London, nestled in some of the city's most stellar locations.
---
Great Cumberland Place, The Royal Horseguards Hotel, and The Tower Hotel.
---
Each has its own character, identity and style – from exquisite elegance at the Royal Horseguards, to contemporary comfort at Great Cumberland Place.
---