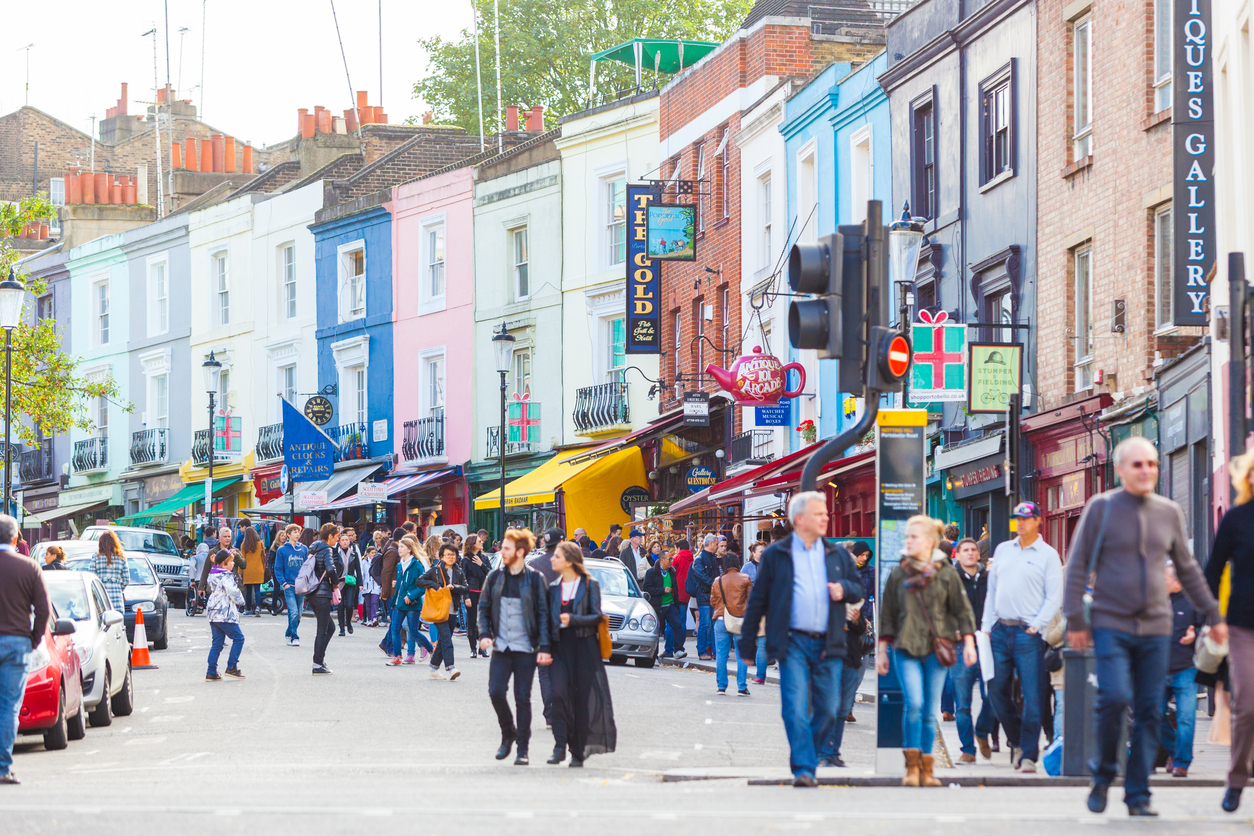 Notting Hill is one of London's most vibrant and colourful neighbourhoods, known for its lively street markets, pastel-coloured houses, and trendy cafes.
---
Here's your guide to some of the best things to see and do in this iconic neighbourhood.
---
Portobello Road Market: This bustling street market is a must-visit for anyone travelling to Notting Hill. With over 1,000 stalls selling everything from vintage clothing to handmade crafts and antiques, it's the perfect place to pick up a unique souvenir or enjoy a leisurely afternoon browsing the stalls.


---

Pastel-Coloured Houses: The streets of Notting Hill are lined with brightly coloured houses, making it one of the most photogenic neighbourhoods in London. Be sure to snap a picture of the famous entrance to Lancaster Road, a street lined with rows of pastel-coloured homes.


---

Cafe Culture: Notting Hill is renowned for its cafe culture, and there are plenty of trendy cafes and coffee shops to choose from. From artisanal coffee shops like Flat White to outdoor restaurants like The Electric, there's something for everyone.


---

Street Art: Street art is a big part of the vibe in Notting Hill, and you'll find plenty of colourful murals and street art dotted throughout the neighbourhood. Some of the most notable pieces are on the walls of Portobello Road and Acklam Village.


---

The Notting Hill Carnival: The Notting Hill Carnival is one of the largest street festivals in the world, taking place over the August Bank Holiday weekend each year. With music, food, and costumes galore, it's a fantastic way to experience the vibrant energy of the neighbourhood.


---

Hyde Park: Just a stone's throw away from Notting Hill, Hyde Park is one of London's largest and most beautiful parks. Spend an afternoon picnicking on the lawns, exploring the gardens, or visiting the Serpentine Gallery.


---
Whether you're visiting for the first time or a regular in the neighbourhood, there's something for everyone in Notting Hill.
---
Happy exploring!
---
Guoman Hotels in London
An exclusive collection of four and five-star hotels in London, nestled in some of the city's most stellar locations.
Great Cumberland Place, The Royal Horseguards Hotel, and The Tower Hotel.
Each has its own character, identity and style – from exquisite elegance at the Royal Horseguards, to contemporary comfort at Great Cumberland Place.
---