Peckham is a quintessential part of London, that offers an authentic slice of what life is really like in England's capital city. It's unique, always changing, delicious and never, ever dull.
It's always been one of our favourites areas in London, as there is just so much going on there. It really is one of the most vibrant and happening places in the city. It's a place where you can sample the finest West African cuisine at the same time as visiting some of the hippest venues, discovering high class art and boogying the night away. New York is a place that never sleeps and so is Peckham!
Uncover exactly why it's a place you just have to visit with these 9 interesting, fun and exciting activities you can partake in whilst in Peckham.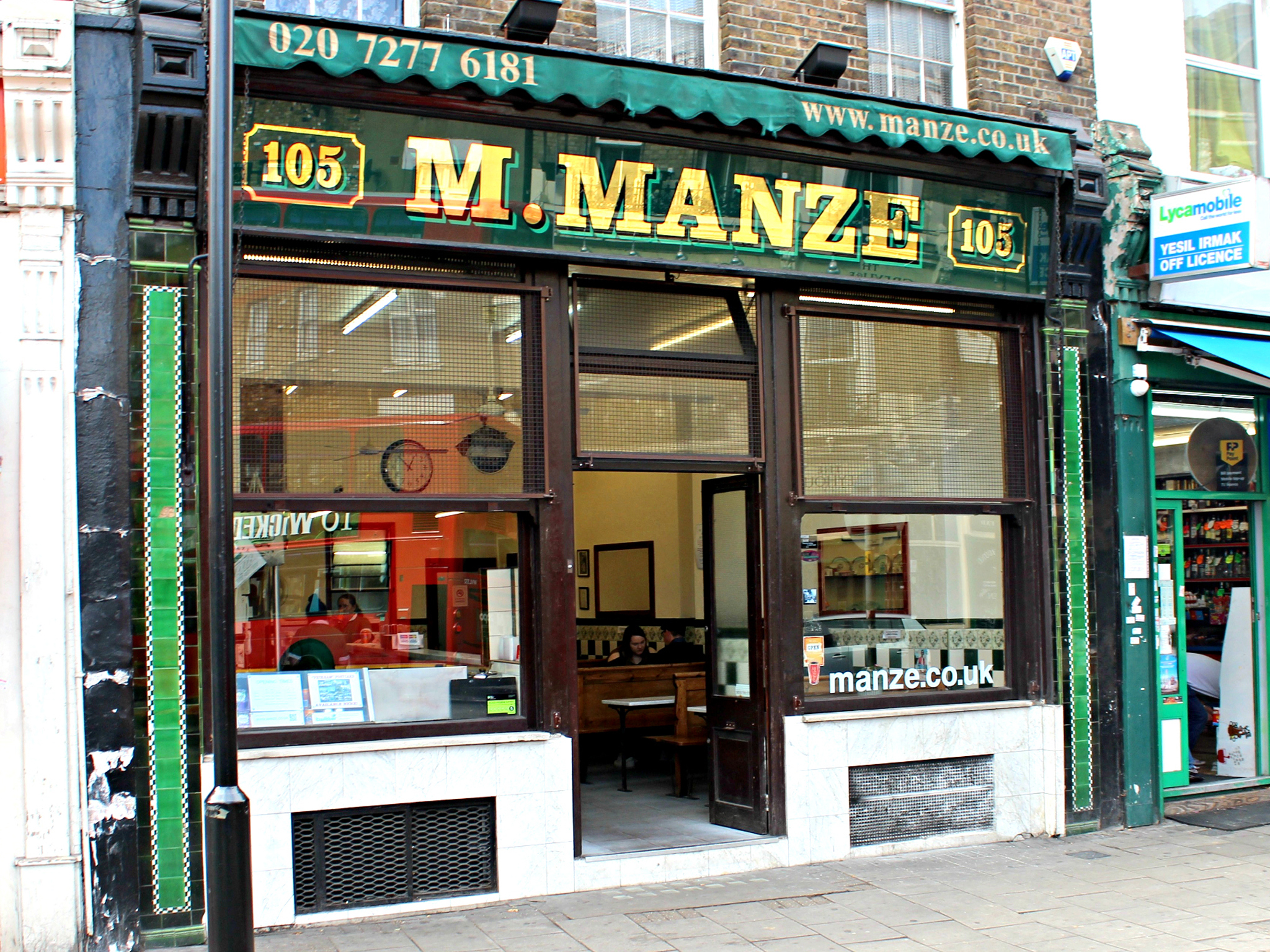 1. Sample some traditional London Cuisine at M.Manze
M.Manze is arguably one of the capital's most famous eateries for traditional London fare, such as pie, mash & liquor. It's the jewel in Peckham's crown and if you ever want to the try jellied eels for the first time, it's certainly the best place to do it.
Of course, jellied eels aren't everyone's cup of tea, but don't worry, as there's lots more local fare to try, like their signature pie and mash – which is a dish with much wider appeal!
M.Manze is also one of the oldest restaurants in Peckham, as it opened way back in 1927, after having been owned by one family for almost 100 years.
2. Spend an enjoyable night at Frank's

Frank's is one of those unique establishments in Peckham that just has to be visited. When you enter this popular night spot, what strikes you immediately are the pink stairs that take you up to the roof bar. Not only are the stairs pink, but also the walls, the floor, the bannisters….yes, they're pink!
The bar sits on an old industrial premises and it offers fantastic views of the capital whilst enjoying an evening drink. It's popular with both tourists and locals, but you won't find it open during the Winter, as it's just too cold!
3. Get Yogarising!
After having your fill of top food and drink in Peckham, you might start thinking about burning some of those calories off. And what better place to do that than Yogarise, off Rye Lane. Located in an old industrial premises, similar to the one that Frank's is built on, Yogarise is the ideal place to relax, reinvigorate and prepare yourself to discover more of what Peckham has to offer.
4. Go Catch a Movie!
Peckham is home to one of the capital's most visited independent picture houses – the aptly named Peckhamplex! Another selling point of the cinema is that it costs just £4.99 to get in!
You might think that with the entry cost being so low, they won't show films you've heard or that the films they do show won't be very good. However, you'd be incorrect. Peckhamplex offers up regular blockbuster movies, as well as the independent films it shows, so there'll be something for everyone's movie tastes.
5. Head to Peckham Refreshment Rooms for Brunch
This venue is one of Peckham's hidden secrets – one which we only found because of the wonderful cakes they had outside! It's a massive favourite for Peckham locals and a great place to enjoy a delicious cake and a cup of tea.
It's not all about cakes either, as it turns out that Peckham Refreshment Rooms is also a great place for breakfast, brunch, lunch and dinner.
Whilst there, you can sample tasty coffees and cakes, returning later to try a gorgeous cheese and ham sandwich or a plate of bubble and squeak. A great place to refuel your body with tourist energy!
6. Pop to Brick House Sourdough Bakery and Cafe for a Coffee
If you're at the Peckham Refreshment Rooms, you won't have far to go to visit the amazing Sourdough Bakery Cafe, as it's right next door. If you're in the area for a few days, we'd recommend visiting both establishment at some point,as they both offer a great range of filling, satisfying food.
You'll smell the bakery before you see it and as there aren't that many bakeries left in London, it's something you should see for yourself, while you still can.
7. Witness South London's Famous Street Art
The area of Peckham is fast becoming known for being a hub of creativity, with its resident street artists helping to develop this reputation. Whilst walking around the side streets of Rye Lane, you should keep a sharp look out for local artist creations that grace the neighbourhood's walls.
If you're not impressed by street art, then you should visit the area's numerous galleries, like the Copeland Gallery or MOCA London. It's an area that really supports its up and coming artists.
8. Pop to Peckham Microbrewery
One place that's worth gathering a few friends together to visit is the Brick Brewery. It's something that came into being because of the passion one man had for hops – Ian Love. Driven by his mates, the result is Brick Brewery, a fun location to spend an hour or even an entire afternoon or evening.
Don't worry if you're quite particular with your beer, as there are so many on offer that you're likely to find one you like.
9. Discover Peckham Levels
The last Peckham attraction on our list, is Peckham Levels, which is an interesting locale, jammed full of eateries, restaurants and art exhibits. The venue is built into a multi-level car park (hence the name).
Whilst there, we'd recommend visiting West for some awesome brownies, Near and Far for an outstanding selection of cocktails, Lords of Poké to for a DIY poké (poké is raw fish, a little like sushi, but heralding from Hawaii) experience or Nandine to try out the best in Kurdish cuisine.
It's the ideal location to begin a top night out with drinks and food, before moving on to Frank's for a delicious cocktail.
---
Peckham is a lively and diverse neighbourhood in South London, known for its artistic and cultural scene and thriving food and drink offerings.
---
Whether you're a resident or just visiting for the first time, there's always something new to discover in this exciting part of the city.
---
Here's a guide to help you make the most of your trip to Peckham.
---
What to See and Do:
---
Peckham Levels: A unique cultural space housed in a multi-level car park, offering a range of events, exhibitions, and creative workshops.

Peckham Rye Park and Common: A beautiful green space that offers scenic walks, picnic areas and a playground, a great place to relax and enjoy peace.

The Bussey Building: A former industrial building that now serves as a popular venue for art exhibitions, live music, and other cultural events.

Frank's Cafe: A legendary rooftop bar and restaurant offering panoramic views of London and a great selection of food and drink.




---
Food and Drink:
---
The Begging Bowl:

 A popular Thai restaurant serving delicious and authentic dishes.

Artusi:

 A stylish Italian restaurant that offers a contemporary twist on traditional Italian cuisine.

Ms Cupcake:

 A vegan bakery and cafe serving a range of sweet treats and savoury snacks.

The Bottle Shop:

 A craft beer shop and bar offering a range of local and international beers, wine, and spirits.




---
Nightlife:
---
The CLF Art Cafe: A cultural venue and nightclub hosting everything from live music and DJs to poetry nights and theatre performances.

Amersham Arms: A popular live music venue and bar hosting a range of local and touring acts.

The Bussey Rooftop Bar: A stunning rooftop bar offering spectacular views of the city and a great selection of cocktails and drinks.




---
Getting There: Peckham is easily accessible by public transportation, with Peckham Rye Station providing connections on the Overground Line, which runs directly to central London. There are also numerous bus routes serving the area, as well as convenient taxi and Uber options.
---
Whether you're looking to explore the exciting art scene, sample some of the best food in London, or experience the buzz of the nightlife, Peckham is a must-visit destination.
---
So why not head down and see what this vibrant neighbourhood offers today?
---